:: home

:: books

:: gallery

:: data

:: blog

:: kids

:: shop

:: bio

:: help

:: contact

:: ChrisKridler.com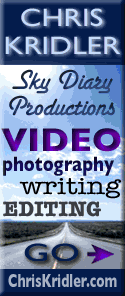 Words/images COPYRIGHT © 2018 by Chris Kridler. All rights reserved. Do not use Sky Diary photos on other Web sites. Personal use as computer wallpaper is permitted, but do not distribute photos. Write for information about purchasing video, photographs or articles. | Frequently asked questions

storm gallery: May 10, 2005
To see a larger version of a photo, just click on its thumbnail image below. Then, to get back to this page, hit the "back" button on your browser.
Our crew ran into Jim Leonard's Cyclone Tours at a truck stop in Grand Island, after we'd waited for a while in Kearney. Finally, this tower went up, headed for the front, and we went after it. Digital images.
The storm almost immediately assumed a rounded appearance. It was rotating. Digital images.
Then it formed a brief funnel before putting down a rear-flank downdraft and forming a spinning lowering that didn't quite make a tornado. Video images.
Here are several views of the cell as it formed that beautiful spinning feature. Digital and video images.
The cell evolved, kicking up tons of dust and gustnadoes that probably contributed to several tornado reports, then assumed a stacked-plate appearance as darkness fell. Digital images.
The ultimate lightning show was dramatic. Then we dropped south to York, Nebraska, to avoid baseball-size hail. Digital image.





Diary from this year's chase | 2005 reports and photos





go to the main gallery page | go to storm chasers
go to reports from 2005, 2004, 2003, 2002, 2001, 2000, 1999, 1998, 1997