:: home

:: books

:: gallery

:: data

:: blog

:: kids

:: shop

:: bio

:: help

:: contact

:: ChrisKridler.com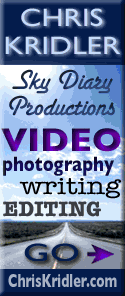 Words/images COPYRIGHT © 2018 by Chris Kridler. All rights reserved. Do not use Sky Diary photos on other Web sites. Personal use as computer wallpaper is permitted, but do not distribute photos. Write for information about purchasing video, photographs or articles. | Frequently asked questions

storm gallery: May 9, 2005
To see a larger version of a photo, just click on its thumbnail image below. Then, to get back to this page, hit the "back" button on your browser.
We started May 9 pondering data for later in the week from our hotel in Manhattan, Kansas. Our only solution: Proceed to Cawker City, Kansas, to revisit the world's largest ball of twine. Digital images.
| | | |
| --- | --- | --- |
| There was a storm chaser convergence at the ball of twine: From left, Dave Lewison, Pete Ventre, Charles Edwards, George Kourounis and Mark Robinson. Digital image. | A tornado siren looms behind the twine pavilion. Digital image. | Charles Edwards' Cloud 9 Tours van had a gross antenna topper: a hot dog. A real hot dog. Digital image. |
The kind folks of Cawker City brought out a spool of twine and let us add to this national landmark! George Kourounis tied the first knot, then entangled Dave Sills. I got my chance, too - clearly, I was ecstatic. Digital images.
The crowd loved the twine-wrapping; Dave Lewison and Scott McPartland were among the contributors. Digital images.
We wrapped up the day with steak dinners in Kearney, Nebraska. Here's John Guyton, Dave Lewison and Charles Edwards. Digital image.





Diary from this year's chase | 2005 reports and photos





go to the main gallery page | go to storm chasers
go to reports from 2005, 2004, 2003, 2002, 2001, 2000, 1999, 1998, 1997