:: home

:: books

:: gallery

:: data

:: blog

:: kids

:: shop

:: bio

:: help

:: contact

:: ChrisKridler.com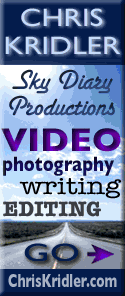 Words/images COPYRIGHT © 2018 by Chris Kridler. All rights reserved. Do not use Sky Diary photos on other Web sites. Personal use as computer wallpaper is permitted, but do not distribute photos. Write for information about purchasing video, photographs or articles. | Frequently asked questions

storm gallery: May 8, 2005
To see a larger version of a photo, just click on its thumbnail image below. Then, to get back to this page, hit the "back" button on your browser.
May 8, we started the day in Grand Island, Nebraska. Here's Scott McPartland's car, still muddy from the night before. Then we stopped south of Lincoln to check data, which is what Dave Lewison (middle) and Dave Sills are talking about (in background, Scott McPartland and, outside, Mark Robinson). Digital images.
| | | |
| --- | --- | --- |
| Pete Ventre visits with some traveling beagle puppies named Gracie and Daisy. Digital image. | We headed south again; here's Mark Robinson's car. Digital image. | In Beatrice, Nebraska, we saw lots of convection to the east but chose to go south into Kansas toward storms developing near Concordia. Digital image. |
| | |
| --- | --- |
| Here's one of the cells we saw in Kansas. So many were going up that it was hard to pick one. Digital image. | South of Washington, Kansas, we pulled into a golf course to get a view and saw this distinct funnel form briefly. Image from video. |
We let the core run over us - there was some marble-size hail, and there was plenty of it. It covered the road. Then the cells merged into a line, a bow, and we hastened east to get ahead of it. Digital and video images.
The bow had a beautiful, roiling appearance as it swept south through Frankfort and beyond. It eventually weakened, and our chase ended. Digital images.




Diary from this year's chase | 2005 reports and photos





go to the main gallery page | go to storm chasers
go to reports from 2005, 2004, 2003, 2002, 2001, 2000, 1999, 1998, 1997