:: home

:: books

:: gallery

:: data

:: blog

:: kids

:: shop

:: bio

:: help

:: contact

:: ChrisKridler.com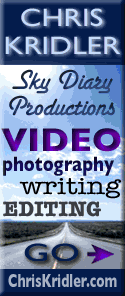 Words/images COPYRIGHT © 2018 by Chris Kridler. All rights reserved. Do not use Sky Diary photos on other Web sites. Personal use as computer wallpaper is permitted, but do not distribute photos. Write for information about purchasing video, photographs or articles. | Frequently asked questions

storm gallery: May 7, 2005
To see a larger version of a photo, just click on its thumbnail image below. Then, to get back to this page, hit the "back" button on your browser.
May 7, I joined up with the New York crew of Dave Lewison, Scott McPartland and Pete Ventre, along with Canadians Mark Robinson and Dave Sills (pictured at left, above). A couple of other Ontario chasers joined us, too. Our initial target was Kearney, Nebraska. We stopped one exit west of there and saw the big storms billowing up along the dryline to the west, and decided to chase them. This one northeast of North Platte had a tornado warning. Digital images.
| | |
| --- | --- |
| The storm was picturesque as it cruised north, but we saw no tornado. Other storms formed behind it. Digital image. | When we saw big cells going up in our original target area, in the better air, we headed east again. This is the sort of convection we saw along the way. Digital image. |
Kearney had a tornado warning, and as we came upon it, this is what we saw. I've enhanced the contrast here, but I wasn't entirely convinced at first. However, reports seem to bear out that it was a tornado. If you have to debate, it wasn't that great of a sighting! Image from video.
| | |
| --- | --- |
| North of Grand Island, there was gorgeous redevelopment on the back end of the supercell. Image from video. | Scott McPartland and Dave Lewison enjoy the late-day storm; that's the hail shield they built to protect Scott's windshield. About this time, we noticed we had people following us, including a carload of young guys. They would find out soon enough that this was a bad idea. Digital image. |
We followed the cell north into a network of dodgy gravel roads and hung out. As it was getting dark, with new cells approaching, we saw we had to leave to avoid getting stuck. Then we spotted a couple of guys trying to flag us down. We stopped. They were stuck in the mud - the same crowd of five guys who'd been following us and then got lost. Some of our crowd tried to get the car out and couldn't, as more storms with rotation signatures bore down. We ended up taking them to a gas station in Fullerton, leaving their car behind to be pounded by the training storms. Digital images.
The night ended happily south of Fullerton, where we photographed fantastically strobing lightning in the line of storms. Mark Robinson and Dave Sills were enthusiastic, as you can see. Digital images.




Diary from this year's chase | 2005 reports and photos





go to the main gallery page | go to storm chasers
go to reports from 2005, 2004, 2003, 2002, 2001, 2000, 1999, 1998, 1997