:: home

:: books

:: gallery

:: data

:: blog

:: kids

:: shop

:: bio

:: help

:: contact

:: ChrisKridler.com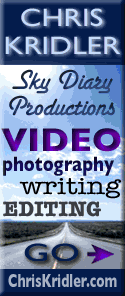 Words/images COPYRIGHT © 2018 by Chris Kridler. All rights reserved. Do not use Sky Diary photos on other Web sites. Personal use as computer wallpaper is permitted, but do not distribute photos. Write for information about purchasing video, photographs or articles. | Frequently asked questions

storm gallery: May 5, 2005
To see a larger version of a photo, just click on its thumbnail image below. Then, to get back to this page, hit the "back" button on your browser.
No storms yet for my Plains chase - so as I traveled May 5, I revisited 2004's big day. These two shots show the house, now rebuilt, destroyed during last year's May 12 tornadoes east of Attica, Kansas, and a longer shot with tornado-shredded trees and the house in the background. Digital images.
Emerald waves of grain show a healthy wind south of Hays, Kansas, while my car reflects the setting sun. Digital images.
| | |
| --- | --- |
| The sunset south of Hays was rich in reds. Digital image. | |




Diary from this year's chase | 2005 reports and photos





go to the main gallery page | go to storm chasers
go to reports from 2005, 2004, 2003, 2002, 2001, 2000, 1999, 1998, 1997