:: home

:: books

:: gallery

:: data

:: blog

:: kids

:: shop

:: bio

:: help

:: contact

:: ChrisKridler.com




advertisement: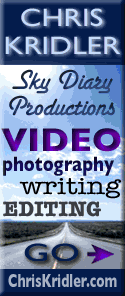 Words/images COPYRIGHT © 2016 by Chris Kridler. All rights reserved. Do not use Sky Diary photos on other Web sites. Personal use as computer wallpaper is permitted, but do not distribute photos. Write for information about purchasing video, photographs or articles. | Frequently asked questions

storm gallery: 2005
SLIDE SHOW: Best of 2005
(if the window doesn't pop up, click here)
Here are some images from the 2005 storm chase.


April 7: Moody clouds and lightning in Florida

May 5: Chasing warm-up: Looking back at 2004 damage and west at a Kansas sunset

May 6: A picturesque supercell in southwestern Nebraska

May 7: Nebraska supercells, lightning and a tornado by consensus


May 8: A funnel and a dramatically bowing line in Kansas

May 9: No storms, but a cyclonic experience at the Ball of Twine!

May 10: An impressive supercell in Nebraska

May 11: Kansas lightning redeems a mediocre chase

May 12: A big tornado and painfully big hail

May 22-July 9: Florida storms and Hurricane Dennis from afar

December 12: Cirrus, a sun dog, and an amazing Florida sunset


Read the diary from this year's chase