:: home

:: books

:: gallery

:: data

:: blog

:: kids

:: shop

:: bio

:: help

:: contact

:: ChrisKridler.com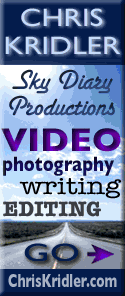 Words/images COPYRIGHT © 2018 by Chris Kridler. All rights reserved. Do not use Sky Diary photos on other Web sites. Personal use as computer wallpaper is permitted, but do not distribute photos. Write for information about purchasing video, photographs or articles. | Frequently asked questions

storm gallery: September 2, 2004

NOAA image of Frances on Sept. 1

HURRICANE FRANCES:
THE HURRICANE HUNTERS

To see a larger version of a photo, just click on its thumbnail image below. Then, to get back to this page, hit the "back" button on your browser.
On Sept. 2, I had a rare opportunity to take a flight with the National Oceanic and Atmospheric Administration's hurricane hunters. I was on assignment for my newspaper. Our flight left MacDill Air Force Base in Tampa about 1:30 a.m. EDT. We flew on a Gulfstream IV, which flew around the periphery of Hurricane Frances, then a Category 4 storm over the Bahamas. Read the National Hurricane Center advisory and text for 5 a.m., while we were still in the air. Here, flight director Jack Parrish and the Hurricane Research Division's Chris Landsea monitor and process data from dropwindsondes - capsules dropped from the airplane that can measure temperature, pressure and humidity, as well as wind speed and direction, thanks to the Global Positioning System technology in each tube. The third image shows our route and drop points. Note the satellite image lags behind the route, which anticipates where Frances would be. Digital and video images.
Technician James Barr drops a sonde down the chute. He launches it on cue from Jack Parrish. The crew kindly allowed guests to sign a sonde, so I played on the fact that Frances was this season's "F" storm. Later, Landsea and Parrish discussed whether to add another sonde to the route to better sample the ridge that was pushing Frances toward Florida. Digital and video images.
The sun rose over the outer edges of Frances. Most of the time we flew through the central dense overcast, which looked mostly white. The plane had tight quarters, but room enough for the crew to monitor data and also radar of stormy areas that were best avoided. Digital and video images.
Storm clouds bubble up in the hurricane, as seen through the cockpit. The pilots' dashboard mascot had a tropical flavor. Often, we were far enough from the storm to see clear sky. Digital and video images.
The Gulfstream IV gleams on the tarmac after landing. It is emblazoned with the Muppet Gonzo. Digital and video images.




Diary from this year's Plains chase | 2004 reports and photos





go to the main gallery page | go to storm chasers
go to reports from 2004, 2003, 2002, 2001, 2000, 1999, 1998, 1997