:: home

:: books

:: gallery

:: data

:: blog

:: kids

:: shop

:: bio

:: help

:: contact

:: ChrisKridler.com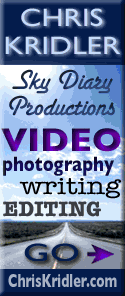 Words/images COPYRIGHT © 2018 by Chris Kridler. All rights reserved. Do not use Sky Diary photos on other Web sites. Personal use as computer wallpaper is permitted, but do not distribute photos. Write for information about purchasing video, photographs or articles. | Frequently asked questions

storm gallery: May 7-10, 2004
To see a larger version of a photo, just click on its thumbnail image below. Then, to get back to this page, hit the "back" button on your browser.
May 7 was a blue-sky bust day for our group. At a truck stop in Omaha, Nebraska, we ran into Cloud 9 Tours. Charles Edwards is among those scanning the sky for hope. Then George Kourounis enacts a tornado chase while looking at the sticker on the back of my car. Finally, a spinner showed wind, but that's all. Digital video and still images.
| | |
| --- | --- |
| May 8 started with some sightseeing. A railroad bridge crosses the Missouri River at Blair, Nebraska. Digital image. | Gorgeous flowers fill a field in eastern Nebraska. Digital image. |
Dust devils were cranking in a farm field in eastern Nebraska on May 8. In the second image, two are swirling around one another. Images from video.
Dave Lewison and I got data in Sioux City, Iowa, where we met up with Kinney Adams. As we headed east, we ran into Tempest Tours. The tour group and Kinney decided to go back west, while we pursued storms to the east in central Iowa. We ended up seeing quarter-size hail and lightning. Images from digital video.
On May 9, we met up with Canadian chaser Mark Robinson (left) in his souped-up car and his friends Dave and Sarah. Images from video.
As May 9 continued, we saw pretty storms in south-central Minnesota. Images from video.
Also May 9 in Minnesota, the severe storm formed a pretty, scalloped edge. We tried to catch some hail on this not-so-great road - what is this, eastern Oklahoma? No, it really is Minnesota. Images from video.
On May 10 in South Dakota, during a marathon drive west, we and the Canadian crew were intrigued by clouds indicating moisture streaming northwest. The prairie dogs were cute, too. Digital and video images.
Later May 10, we met up with Scott McPartland and his friend Pete north of Alliance, Nebraska. Our target didn't verify, but the streaming moisture was amazing. A radio station let us stop for data ("The Twister"), and we touched the Wyoming border at sunset while storms softened in the distance. Digital and video images.




Diary from this year's chase | 2004 reports and photos





go to the main gallery page | go to storm chasers
go to reports from 2004, 2003, 2002, 2001, 2000, 1999, 1998, 1997