:: home

:: books

:: gallery

:: data

:: blog

:: kids

:: shop

:: bio

:: help

:: contact

:: ChrisKridler.com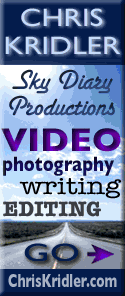 Words/images COPYRIGHT © 2018 by Chris Kridler. All rights reserved. Do not use Sky Diary photos on other Web sites. Personal use as computer wallpaper is permitted, but do not distribute photos. Write for information about purchasing video, photographs or articles. | Frequently asked questions

storm gallery: August 31-September 24, 2001
To see a larger version of a photo, just click on its thumbnail image below. Then, to get back to this page, hit the "back" button on your browser.
| | |
| --- | --- |
| It's been a season of never-ending layered gust fronts in central Florida. Here's one forming on August 31, 2001, as seen from Route 528. Image from slide. | Cheryl Chang and I had another view of it from an overpass over I-95, on Route 50. Image from slide. |
| | |
| --- | --- |
| We saw the gust front continue to pass over the Interstate, moving east, on August 31. Image from slide. | September 1, Cheryl Chang and I again tried chasing. This time, the lightning storms were a bit too far for really great shots, but we tried to shoot them anyway from west of Titusville, Florida. Image from slide. |
| | |
| --- | --- |
| Here's a little more distant lightning. Image from slide. | The storm culminated in a couple of nice anvil crawlers. Image from slide. |
| | |
| --- | --- |
| On September 14, Tropical Storm Gabrielle brought tornadoes to Brevard County, Florida, as well as stout waves. A surfer enjoys them here at Satellite Beach. Image from slide. | The tropical storm came across Florida from the west coast of the peninsula and entrained a lot of dry air, resulting in high winds by sunset but dry skies. Here, a flag flies at half-mast to commemorate the thousands of people killed in the terrorist attacks just three days before. Image from slide. |
The passing tropical storm left a pretty sunset behind on Florida's east coast. Image from slide.
| | |
| --- | --- |
| A magnificent dawn lit up these clouds over the ocean off Satellite Beach, Florida, on September 24. This view is looking east. Image from slide. | In the west, the dawn created these beautiful rays of orange light against the dark blue sky. Image from slide. |
Links to 2001 chase reports:
go to the main gallery page | go to storm chasers
go to reports from 2001, 2000, 1999, 1998, 1997