:: home

:: books

:: gallery

:: data

:: blog

:: kids

:: shop

:: bio

:: help

:: contact

:: ChrisKridler.com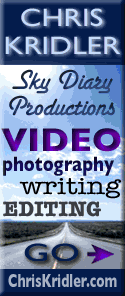 Words/images COPYRIGHT © 2018 by Chris Kridler. All rights reserved. Do not use Sky Diary photos on other Web sites. Personal use as computer wallpaper is permitted, but do not distribute photos. Write for information about purchasing video, photographs or articles. | Frequently asked questions

storm gallery: August 10-11, 2001
To see a larger version of a photo, just click on its thumbnail image below. Then, to get back to this page, hit the "back" button on your browser.
| | | |
| --- | --- | --- |
| A trip to the Florida Keys started with a skinny waterspout on August 10, 2001. Image from video. | Cheryl Chang, Jim Leonard and I saw the little spout from the Seven Mile Bridge. It dissipated fairly quickly. Image from video. | Afterward, we had a gorgeous view of a struggling storm over an island in the turquoise water. Image from slide. |
| | |
| --- | --- |
| During a stop at No Name Key, Jim got friendly with the natives: Key deer. We didn't feed them, but it was obvious they were used to tourists giving them snacks (which is prohibited). Image from slide. | The deer takes a break from grazing and eyes me and my camera suspiciously. Image from slide. |
| | |
| --- | --- |
| Even if the storms don't cooperate in the Keys, you can usually count on a swell sunset. Image from slide. | Sunset, August 10, part 2. Image from slide. |
| | |
| --- | --- |
| Cheryl, Jim, Mike Theiss and I headed to Blimp Road on August 11, where the reconnaissance blimps are launched, to watch the storms build. Image from slide. | The clouds didn't want to produce spouts, but Jim and Cheryl cooled off while we waited in vain for action. Image from slide. |
A subtle Islamorada sunset that evening washed the sky and water in pastel colors. In the distance is a storm that most likely formed over the Everglades in south Florida. Images from slides.
Links to 2001 chase reports:
go to the main gallery page | go to storm chasers
go to reports from 2001, 2000, 1999, 1998, 1997