:: home

:: books

:: gallery

:: data

:: blog

:: kids

:: shop

:: bio

:: help

:: contact

:: ChrisKridler.com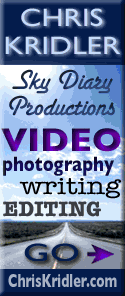 Words/images COPYRIGHT © 2018 by Chris Kridler. All rights reserved. Do not use Sky Diary photos on other Web sites. Personal use as computer wallpaper is permitted, but do not distribute photos. Write for information about purchasing video, photographs or articles. | Frequently asked questions

storm gallery: May 9-11, 2001
To see a larger version of a photo, just click on its thumbnail image below. Then, to get back to this page, hit the "back" button on your browser.
On May 9, Dave Lewison and I headed from Nebraska up into Iowa and then southwest Minnesota, where the wind profile was more favorable for rotation among the storms beginning to fire on the front. We saw in the distance the storm that eventually produced tornadoes, and liked the looks of it, but there was no way we could catch it. We settled for this storm. Images from video.
| | |
| --- | --- |
| The storm in southwest Minnesota had a crisp anvil and nice convection but was high-based for some time. Image from slide. | We met up with Ontario chasers George Kourounis and Mark Robinson before we saw this beautiful rotation in the clouds. It lasted for a few minutes, but the high-based storm didn't want to put down a tornado. Image from slide. |
| | |
| --- | --- |
| Mark's car, the "Enraged Mosquito," crouches under the roiling storm. Image from slide. | The storm tried again to get its act together as inflow rushed into the finally-lowered base, but it failed. Image from video. |
As the storm above moved east, it was overtaken by this beautiful storm moving northeast, with its gorgeous curtains of hail and rain illuminated by the setting sun. Images from slides.
The northeast-moving storm had a distinctive hail shaft. Here lightning sparks out of the storm as we drive toward it. Image from video.
| | |
| --- | --- |
| On May 10, Dave, George, Mark and I targeted southwest Iowa. Later in the day, we liked the way things looked around the Iowa-Missouri border, where the cap broke with the rise of this turkey tower. Image from video. | The storm in hilly northwest Missouri seemed to be shaping up, and though we heard the tornado warnings for way the heck northeast in Iowa, we knew we couldn't get to that storm. This one seemed like our only hope for good action, especially since it was isolated and in front of the line forming along the front. Image from video. |
| | |
| --- | --- |
| The May 10 storm exploded, a true convection bomb. This was the view out the front window of the car as we got closer to it. The problem: The base of the storm never lowered and never fulfilled the promise of the tremendous convective power above it. Image from video. | We ended up getting a taste of the pyrotechnics in the line of severe storms when we stopped north of Maryville, Missouri. Under this overhang at a gas station, we experienced extremely high winds and small hail. Image from video. |
Around May 11, this gorgeous sunset backlit the radar domes at the National Severe Storms Laboratory in Norman, Oklahoma. Image from slide.
Links to 2001 chase reports:
go to the main gallery page | go to storm chasers
go to reports from 2001, 2000, 1999, 1998, 1997