:: home

:: books

:: gallery

:: data

:: blog

:: kids

:: shop

:: bio

:: help

:: contact

:: ChrisKridler.com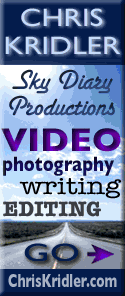 Words/images COPYRIGHT © 2018 by Chris Kridler. All rights reserved. Do not use Sky Diary photos on other Web sites. Personal use as computer wallpaper is permitted, but do not distribute photos. Write for information about purchasing video, photographs or articles. | Frequently asked questions

storm gallery: August 26, 2000
To see a larger version of a photo, just click on its thumbnail image below. Then, to get back to this page, hit the "back" button on your browser. Photos noted as taken from video were shot with a digital video camera.
| | |
| --- | --- |
| August 26, 2000, started out as a little chase in east-central Florida ... then got longer and longer. Here's what LOOKED like a funnel, coming from a storm cloud, when I was several miles west of Yeehaw Junction in the middle of the state; before I could stop the car and start filming, it looked even more needlish. Whether it was anything more than ambitious scud clouds, I can't say, but it was quite persistent and fun to look at. Florida storms are odd, fast-changing beasts. Image from video. | Still on Route 60, I continued west, running into this pretty storm. Image from slide. |
| | |
| --- | --- |
| The storm evolved quickly into a beautiful gust front. Image from slide. | As I neared the Tampa area, the lightning started hitting, hard. This one was a "flang" - I heard the bang when I saw the flash, as it was very close to the car. The sound scared me nearly to death! Image from video. |
Here's a series of bolts that lit up the sky as I drove west. The lightning was intense. Images from video.
| | |
| --- | --- |
| Here's one more - a highway overpass near Tampa takes a hit from a big bolt. Image from video. | The storms were dying fast near sunset, allowing some light to hit convective clouds to the east. The color was gorgeous. Image from slide. |
| | |
| --- | --- |
| One more storm led me on a not-so-merry chase on busy coastal roads south to Sarasota, where I caught a few bolts out of a storm that, by the time I got a good vantage point, was starting to croak over the Gulf of Mexico. Image from slide. | This was my favorite of all the strokes. When storms start to die, they produce some of the best anvil crawlers. This one tied itself into knots as it spun out over Sarasota. Image from slide. |
Links to 2000 chase images:


go to the main gallery page | go to storm chasers
go to reports from 2001, 2000, 1999, 1998, 1997