:: home

:: books

:: gallery

:: data

:: blog

:: kids

:: shop

:: bio

:: help

:: contact

:: ChrisKridler.com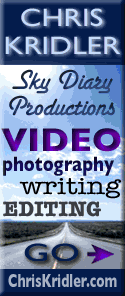 Words/images COPYRIGHT © 2018 by Chris Kridler. All rights reserved. Do not use Sky Diary photos on other Web sites. Personal use as computer wallpaper is permitted, but do not distribute photos. Write for information about purchasing video, photographs or articles. | Frequently asked questions

storm gallery: August 25, 2000
To see a larger version of a photo, just click on its thumbnail image below. Then, to get back to this page, hit the "back" button on your browser. Photos noted as taken from video were shot with a digital video camera.
| | |
| --- | --- |
| A bolt hits the ocean from a storm that probably formed over the gulf stream in this undated photo, shot from Satellite Beach, Florida. Image from slide. | In case you were wondering just what this beach community looks like, here it is from the air. No wonder we fear hurricanes! Image from slide. |
A storm lured me to the Kissimmee-St. Cloud area on August 25, where lots of hot bolts hit around the car. In a parking lot, I ran into Cheryl Chang and Steve Sponsler, too. Images from video.
| | |
| --- | --- |
| I took my chase farther east, off Route 441. Bolts began flying. Image from slide. | I was waiting for the tower to take a hit. Image from slide. |
| | |
| --- | --- |
| Here we go - it looks as if a skinny leader is linked to the tower, but the main channel of charge goes to the left! However, some experts tell me the skinny bolt may simply be a branch terminating behind the tower. Judge for yourself. Image from slide. | Here's another crawler for good luck. Image from slide. |
| | |
| --- | --- |
| I got home to Indialantic, on the coast, and the show went on! Image from slide. | Nature's fireworks are the best. Image from slide. |
Links to 2000 chase images:


go to the main gallery page | go to storm chasers
go to reports from 2001, 2000, 1999, 1998, 1997