:: home

:: books

:: gallery

:: data

:: blog

:: kids

:: shop

:: bio

:: help

:: contact

:: ChrisKridler.com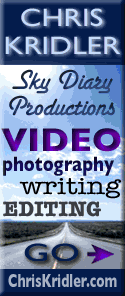 Words/images COPYRIGHT © 2018 by Chris Kridler. All rights reserved. Do not use Sky Diary photos on other Web sites. Personal use as computer wallpaper is permitted, but do not distribute photos. Write for information about purchasing video, photographs or articles. | Frequently asked questions

storm gallery: May 29-June 2, 2000
To see a larger version of a photo, just click on its thumbnail image below. Then, to get back to this page, hit the "back" button on your browser. Photos noted as taken from video were shot with a digital video camera.
| | |
| --- | --- |
| West of Oshkosh, Nebraska, on May 29, our crew (Steve Sponsler, Nick Nicholson, Susan Jensen and a bunch of other fine folks) saw the beginnings of the storm that later became a nasty bow (and also produced a tornado Scott Blair and Jason Politte filmed, west of North Platte). Image from video. | Here's another view as it developed. It looked as if it was trying to become a shelf cloud. Image from video. |
| | |
| --- | --- |
| And here's another view ... Image from slide. | I'd call this a non-rotating wall cloud. It formed under one "scallop" of the base. Image from video. |
| | |
| --- | --- |
| We got pretty excited when the storm formed a visibly rotating couplet. No dice. Image from video. | Welcome to Nebraska, from a chaser's point of view. Image from slide. |
| | |
| --- | --- |
| Then the spectacular gust-out began. This dust was rising under the base, but it was being kicked up. John Moore called it a "dry microburst." Image from video. | We abandoned the storm to head north to the area forecast to be more favorable for storms, but there was no show there -- just Carhenge north of Alliance, Nebraska. Yet on the way to Sidney, where we were staying, these gorgeous mammatus clouds appeared. Image from slide. |
| | |
| --- | --- |
| I chased a severe storm in eastern Colorado on May 31. It looks pretty tame here. Image from video. | The storm started to get really nasty as it turned into a massive, windy gust front, kicking up loads of dust. Image from video. |
| | |
| --- | --- |
| Here's another view of the "dust front," taken with a still camera. Image from slide. | I got ahead of it and saw a gorgeous sunset. Image from video. |
Just when I thought the show was over and was checking into a hotel in Goodland, Kansas, the dust storm hit. And hit. And hit. For several minutes, the town was sandblasted, shattering some glass signs and blowing away this greenhouse in the WalMart parking lot.
| | |
| --- | --- |
| The sky was even beautiful on my drive home to Florida. On June 2, I saw this gorgeous sunset over Bunkie, Louisiana. Image from slide. | Amazing. The "hood ornament" my chase partner Dave Lewison put on my car at the beginning of the trip survived it all -- and, in fact, this Happy Meal Power Ranger was still on my car at the end of 2000, after all kinds of tempests. Duct tape rocks. Image from print. |
Links to 2000 chase images:


go to the main gallery page | go to storm chasers
go to reports from 2001, 2000, 1999, 1998, 1997