:: home

:: books

:: gallery

:: data

:: blog

:: kids

:: shop

:: bio

:: help

:: contact

:: ChrisKridler.com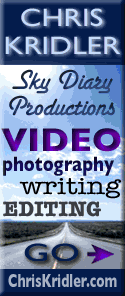 Words/images COPYRIGHT © 2018 by Chris Kridler. All rights reserved. Do not use Sky Diary photos on other Web sites. Personal use as computer wallpaper is permitted, but do not distribute photos. Write for information about purchasing video, photographs or articles. | Frequently asked questions

storm gallery: May 25-27, 2000
To see a larger version of a photo, just click on its thumbnail image below. Then, to get back to this page, hit the "back" button on your browser. Photos noted as taken from video were shot with a digital video camera.
| | |
| --- | --- |
| What was it with me and HP storms this year? I targeted eastern New Mexico on May 25, 2000, and ran into this beast coming out of Tucumcari. Just when I seemed to find its base, it began a big gust-out. The winds were so strong, I thought the car might tip over. Image from video. | I made it down to Amarillo, Texas, and heard a "tornado on the ground" warning for Dawn. As I headed to the area, which was about 20 minutes' drive away, I filmed this storm. But I was too late for the warning -- it expired, and it was too dark by then to see anything anyway. Image from video. |
| | |
| --- | --- |
| Anyone who was in Amarillo that night knows that the lightning was amazing. This was one bolt. Video doesn't do it justice. Image from video. | A little farther east, near Claude, I saw the hottest lightning of my life. Here's a great double bolt. Image from slide. |
| | |
| --- | --- |
| Here's another twisty bolt near Claude. Image from slide. | And here's yet one more spidery explosion of lightning. Image from slide. |
| | |
| --- | --- |
| The next day, May 26, I joined Cheryl Chang and the caravan she'd been traveling with, which ended up including Bill Reid, Brian and Nancy Morganti, and Martin Lisius. As we headed into action in north Texas after much indecision, this shear funnel appeared. It was quite persistent and looks really nifty on video. Image from video. | We saw a new storm that really seemed to have its act together ... and it looked like it might form a tornado at any minute ... Image from video. |
| | |
| --- | --- |
| Little did we realize it was a left split and hauling north at 40 or 50 miles per hour. Image from slide. | It kicked up some suspicious-looking dust underneath the base. Image from slide. |
As we tried to maneuver for a better view, some hot CGs hit in front of us. Click on the pictures to see the lightning's branches up close. Images from video.
| | |
| --- | --- |
| We ended up getting slammed by big hail as it made its escape. (I saw only one baseball, but the rest was big enough to give me several more little dents.) Image from video. | As tornadoes were spotted in Caddo County, Oklahoma, and near Throckmorton, Texas, we had to settle for a very pretty storm that formed behind a tornadic one. This was shot near Altus, Oklahoma. Image from slide. |
| | |
| --- | --- |
| As the sun set, dramatic shadows formed. Image from slide. | Here's another view. The base was intriguing, but though rotation was reported, it didn't seem to have the power to produce a tornado. Image from video. |
The storm bubbles darkly above the crimson sun. Image from slide.
The next day, May 27, we had another chance. We headed toward the Wichita Falls, Texas, area and were shocked to hear an early-afternoon tornado warning. We missed a couple of slender tornadoes on the Archer City storm, but we saw this gorgeous funnel just after 2:30 p.m. Here are several views. It did not appear to touch the ground. Image from video.




| | |
| --- | --- |
| As the funnel dissipated, it looked like a menacing new wall cloud was getting its act together (at right in photo). Image from video. | Wrong! The storm almost immediately began to go linear as we drove under its scary swirls. But what a color! Image from slide. |
| | |
| --- | --- |
| Cheryl Chang films the rapidly advancing storm. Image from video. | We punched the core -- there wasn't much of one where we went through, though Dave Fogel's group found bigger-than-grapefruit hail elsewhere with the storm -- to head for storms to the north. They crapped out, but the sky was interesting. Image from video. |
Links to 2000 chase images:


go to the main gallery page | go to storm chasers
go to reports from 2001, 2000, 1999, 1998, 1997