:: home

:: books

:: gallery

:: data

:: blog

:: kids

:: shop

:: bio

:: help

:: contact

:: ChrisKridler.com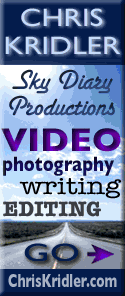 Words/images COPYRIGHT © 2018 by Chris Kridler. All rights reserved. Do not use Sky Diary photos on other Web sites. Personal use as computer wallpaper is permitted, but do not distribute photos. Write for information about purchasing video, photographs or articles. | Frequently asked questions

storm gallery: May 16, 2000
To see a larger version of a photo, just click on its thumbnail image below. Then, to get back to this page, hit the "back" button on your browser. Photos noted as taken from video were shot with a digital video camera.
| | |
| --- | --- |
| Dave Lewison and I targeted the Nebraska panhandle on May 16, 2000, for its favorable shear, decent dewpoints (for the high elevation) and the position of the low just southwest of it. We ended up heading all the way into Wyoming to chase a storm with a huge anvil. These wall clouds were our first look at the base. Image from video. | One of the wall clouds appeared to form a very fat funnel. We lost sight of the bottom as we navigated the valley around Guernsey, Wyoming, but didn't see it touch down. Image from video. |
| | |
| --- | --- |
| Now the fat funnel really looks like a big tornado. Because the hills obscured our view of the ground, we can't say it was, though some chasers said they saw dust under the funnel. Image from video. | The storm produces a skinny funnel in a backlit sky. Image from video. |
| | |
| --- | --- |
| The skinny funnel seems well on its way to producing a tornado. Image from video. | Then, just as it appears to rope out, it also appears to touch down. Image from video. |
Here's the same sequence, but shot at a wider angle with a still camera. Images from slides.
| | |
| --- | --- |
| Dramatic rain bands are lit by the setting sun as a new mesocyclone appears in the foreground (it's more obvious on video!). Image from video. | The storm tries to get its act together again with a new wall cloud. I didn't have time to look at it long, because the storm beaned me on the head with a hailstone (not serious, just surprising!). Image from video. |
| | |
| --- | --- |
| Several trains were creeping along as the storm roiled above. Here, the sunset touches one with fiery red color. Image from slide. | The storm and the sunset painted the sky with magnificent colors. The night ended with quite a lightning show. Image from slide. |
Links to 2000 chase images:


go to the main gallery page | go to storm chasers
go to reports from 2001, 2000, 1999, 1998, 1997