:: home

:: books

:: gallery

:: data

:: blog

:: kids

:: shop

:: bio

:: help

:: contact

:: ChrisKridler.com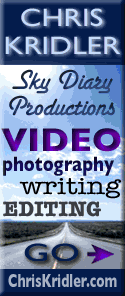 Words/images COPYRIGHT © 2018 by Chris Kridler. All rights reserved. Do not use Sky Diary photos on other Web sites. Personal use as computer wallpaper is permitted, but do not distribute photos. Write for information about purchasing video, photographs or articles. | Frequently asked questions

storm gallery: April 15-16, 2000
To see a larger version of a photo, just click on its thumbnail image below. Then, to get back to this page, hit the "back" button on your browser. Photos noted as taken from video were shot with a digital video camera.
| | |
| --- | --- |
| A severe storm hits Brevard County, Florida, on April 15. Here's a view of it from Palm Bay. Photo from video. | And here's another view. Photo from video. |
| | |
| --- | --- |
| The storm moved east, out over the Indian River. Photo from video. | Down by Vero Beach, a storm had a mini flanking line. Photo from video. |
Views of the storm over the beach: The third one seems to be sun filtering through the clouds and lighting up rain spray as it hits the water ... then there was a rainbow (a good "real" photo of the rainbow is pending, after I get some non-green photos printed). Except for the first, these images are from video.
| | |
| --- | --- |
| About 9 p.m., looking over the Indian River by the Melbourne Causeway: Lightning lit up the clouds. Photo from video. | This was a bolt off Satellite Beach. |
| | |
| --- | --- |
| More fireworks off Satellite Beach ... | set the departing storm aglow. |
| | |
| --- | --- |
| The next day, April 16, was less stormy, but this odd little cell at Holopaw, Florida, had all the appearance and layers of a rotating mini-mothership. Cheryl Chang and I "chased" it, standing still, for several minutes. | As the storms faded, the descending sun lit up the rain. |
Links to 2000 chase images:


go to the main gallery page | go to storm chasers
go to reports from 2001, 2000, 1999, 1998, 1997