:: home

:: books

:: gallery

:: data

:: blog

:: kids

:: shop

:: bio

:: help

:: contact

:: ChrisKridler.com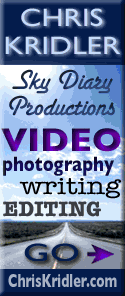 Words/images COPYRIGHT © 2018 by Chris Kridler. All rights reserved. Do not use Sky Diary photos on other Web sites. Personal use as computer wallpaper is permitted, but do not distribute photos. Write for information about purchasing video, photographs or articles. | Frequently asked questions

dispatches: January-March 2011
back | archive | current Share



11 MARCH 2011


11 March 2011 Delta 4 rocket launch from Cape Canaveral with National Reconnaissance Office satellite



Launch: I shot a few photos of the Delta IV rocket launch from Cape Canaveral this evening. It went off just a few minutes after perfect light, but the twilight was still very pretty, and because it's so clear, one could see the rocket forever. Even the separating boosters were crystal-clear. I was a little disappointed I didn't have my new camera with me, but I can't complain - I got to my viewing spot on the Indian River Lagoon just in time. Speaking of clear, it's going to be quite cold tonight in the wake of a cold front - it might hit the 30s at our house, which is crazy given the time of year and the fact that it's been mild for so many weeks. Freaky Florida.



8 MARCH 2011


Miami design - wire trees, or a colony of tornadoes?



Camera trials: I've become very excited about the possibilities of shooting DSLR video, and I just jumped into the fray with the Nikon D7000. I gave it a workout over the weekend at the Mod Miami event (chronicled on sister site TornadoTiki.com). More than even the video, I'm really happy with its performance as a still camera. It's incredible in low light and faster all around than my old D80, which, although a great camera, has been leapfrogged by technology. There's the rub in this digital world: Everything becomes obsolete faster than you can pay off the credit card bill.

I also shot some video, but I still need some practice to make the most of the camera. I used a monopod, but a tripod will be invaluable for reducing camera shake, as it's quite sensitive. I tried an external microphone, which helped improve the sound, but I need to find the sweet spot in terms of the audio settings. It's fun to learn my way around a new gadget. And I want to know exactly what I'm doing once I have the chance to set it up in front of a magnificent supercell this spring!





Tornado-warned storm near Pineda Causeway, Brevard County, Florida, 17 January 2011



Tornado tease: We had a little excitement here on Tuesday -- tornado warnings and even a reported funnel with debris (i.e. a tornado) in Port St. John. I took a brief break from work to intercept an area of rotation in the line that had a warning on it, at U.S. 1 and the Pineda Causeway in Melbourne, Florida. The cold air wasn't a good sign for the storm, and the warning was canceled almost as soon as I got into it, but for a moment, it looked suspicious. It poured hellbuckets after that. And at the very least, we needed the rain.

9 JANUARY 2011


Gulf fritillary butterfly



New year, new weather: Consider the butterfly photo wishful thinking. It was taken a few months ago, back when things looked a lot greener. We had freezes in December that made our slice of Florida a lot browner than it's supposed to be and did some serious plant damage. Now we're experiencing a relatively mild -- er, normal -- January. It feels a little like early spring in the Plains. When a long winter of dreary work likes ahead, I like to imagine myself back on the open road, with a dazzling array of meteorological wonders lining up for my camera. It doesn't always happen that way, but that's what dreams are made of.

I've been terribly slack about updating my site when there's been no weather to speak of, but my friend Steve Sponsler has an excellent forecasting blog focusing on central Florida. Check out the High Speed Dirt blog for his analysis with a touch of humor.