:: home

:: books

:: gallery

:: data

:: blog

:: kids

:: shop

:: bio

:: help

:: contact

:: ChrisKridler.com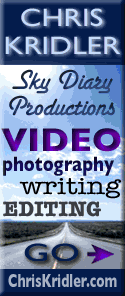 Words/images COPYRIGHT © 2018 by Chris Kridler. All rights reserved. Do not use Sky Diary photos on other Web sites. Personal use as computer wallpaper is permitted, but do not distribute photos. Write for information about purchasing video, photographs or articles. | Frequently asked questions

dispatches: April 2010
back | archive | current Share

13 APRIL 2010


May 29, 2001, supercell, one of my pix in the Popular Photography gallery.


A few seconds of fame! Check out the May issue of Popular Photography. I am interviewed in the "I, Photographer" feature, with a really nice portrait (in the magazine only) by Robert Snow, an incredibly talented Florida-based photographer. Usually I like to be behind the camera, but Robert knows what he's doing! The portrait was shot in one of my favorite spots for lightning photography on the St. Johns River here in east-central Florida. PopPhoto.com used 10 of my photos in a gallery; one is above, from an amazing supercell in the Texas panhandle on May 29, 2001. I'd love to see another storm with that kind of structure this spring! It inspired one of the storms my fictional chasers take on in "Funnel Vision," a novel I hope to get published.

12 APRIL 2010
Data update: I just overhauled my weather data links, which are aimed at storm chasers. Actually, it's the cheat sheet I use most often to find the data I need for forecasts on the road. With this revision, I eliminated the small and mostly redundant listings for the Mid-Atlantic and the Arizona monsoon, since the general links will help you drill down to those areas of interest, if desired. The focus is on Tornado Alley (I'm heading out in May), Florida and the tropics, i.e. hurricanes. I find there are more and more sites offering increasingly detailed data in areas such as forecast models - it's geek candy.

5 APRIL 2010


Shuttle Discovery creates a "falling angel effect" in the atmosphere as it heads toward orbit. Click for gallery.


Space shuttle at dawn. I hate getting up early, but I was thrilled to see the beautiful sight of shuttle Discovery launching at 6:21 a.m. EDT. I took photos from Cocoa, Florida. My streak shot was brief, but I really enjoyed the atmospherics as the shuttle continued toward orbit. Check out the gallery.

Meanwhile, I'm starting to get my gear ready for storm chasing season. Our long-delayed spring weather makes me think about tornadoes.