:: home

:: books

:: gallery

:: data

:: blog

:: kids

:: shop

:: bio

:: help

:: contact

:: ChrisKridler.com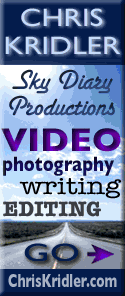 Words/images COPYRIGHT © 2018 by Chris Kridler. All rights reserved. Do not use Sky Diary photos on other Web sites. Personal use as computer wallpaper is permitted, but do not distribute photos. Write for information about purchasing video, photographs or articles. | Frequently asked questions

dispatches: December 2009
back | archive | current Share

15 DECEMBER 2009


Fog in Cocoa, Florida, on Dec. 14



Fab fog: Unusually warm weather (temps in the high 80s) bumped into the ocean, and we had a tremendous fog roll into Brevard County yesterday. I saw it about 3 p.m. as an eerie brownish roll of cloud enveloping the barrier island as I drove east over the causeways from the sun into its cool, misty clutches. It spread inland and made for pretty (short) views, if dangerous roads. It really softened the look of Christmas lights. See the pix.

Meanwhile, the family cookbook is a reality. I started it as a way to honor my mother shortly before she died. She was very ill at the time, but I could tell she was pleased about it. But the project was so emotional for me, it took me about a year and half to complete. Check it out: "Cucina di Gloria: An Italian-American Family Cookbook."