:: home

:: books

:: gallery

:: data

:: blog

:: kids

:: shop

:: bio

:: help

:: contact

:: ChrisKridler.com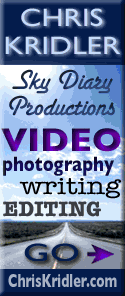 Words/images COPYRIGHT © 2018 by Chris Kridler. All rights reserved. Do not use Sky Diary photos on other Web sites. Personal use as computer wallpaper is permitted, but do not distribute photos. Write for information about purchasing video, photographs or articles. | Frequently asked questions

dispatches: August 2009
back | archive | current Share

22 AUGUST 2009


Surfer takes flight Aug. 22, 2009, in hurricane-spawned waves


Surfers love hurricanes: The waves were really big today for Florida's Space Coast thanks to Hurricane Bill. I went out and shot photos in the Satellite Beach area. The surfers were pretty far out, but the show was impressive. See the pictures.
20 AUGUST 2009


Aug. 20, 2009, lightning


Distance doesn't pay: It doesn't pay to chase faraway storms in Florida. They die before you get there, or you get trapped in corridors of trees with no view, both of which happened to me tonight. The best photos weren't great, but considering they were from almost two counties away, I'm OK with them. Lookie here.
By the way, Hurricane Bill is a monster now. I'm glad the models are taking it north and away from us. This was a view of it today (NASA image).
19 AUGUST 2009

Aug. 19, 2009, shelf cloud in Rockledge, Florida


Ghosts of storms: I'm too tired to elaborate, but let's just say I went out late in a desperate attempt to chase a little lightning storm and instead encountered its eerily lit outflow boundary - a strange shelf cloud that made for interesting photos as it crept overhead.
12 AUGUST 2009
The tropics stir: It's the time of year for fascination and dread when you live in Florida. Yes, the tropics have come alive, and TD 2 is just the beginning. If the forecast models verify, the system after it could be large and nasty and on our front doorstep in a week and a half. I am much more into chasing tornadoes than I am hurricanes (tropical wind and rain aren't photogenic unless you're on the space station, and I'm not a destruction groupie), so I'll be happy if it recurves. That's the suggestion of the GFS model at this point, but it's a loooong way off. Learn more in the tropical data links.

Strangely, with the burgeoning activity in the Atlantic, the local pattern has dried up our rain.

TD 2 on Aug. 12 (NOAA image)


We had incredible lightning on July 24 and barely a drop since. For sharp analysis of daily Florida weather, especially here in east-central Florida, as well as the tropics, check out Steve Sponsler's High Speed Dirt blog. He's a meteorologist by training and a storm chaser by avocation.