:: home

:: books

:: gallery

:: data

:: blog

:: kids

:: shop

:: bio

:: help

:: contact

:: ChrisKridler.com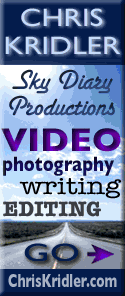 Words/images COPYRIGHT © 2018 by Chris Kridler. All rights reserved. Do not use Sky Diary photos on other Web sites. Personal use as computer wallpaper is permitted, but do not distribute photos. Write for information about purchasing video, photographs or articles. | Frequently asked questions

dispatches: June 2009
back | archive | current Share

14 JUNE 2009
Storms on the air: I talked with Court Lewis on "American Variety Radio" about storm chasing. It aired on the radio today and will be available online for a few weeks.
5 JUNE 2009


Night-blooming cereus


Weird nature: Around the neighborhood, the night-blooming cereus are making a spectactular show. Of course, the show is only at night, and for each bloom, it's only ONE night. I just have a couple of cuttings, but they have a few buds, and this photo shows how gorgeous they are when they bloom. It's hard to believe this stringy cactus can be so glamorous.

I posted photos from a gorgeous May 26 shelf cloud that swept over Brevard County toward the ocean. We've already had some nice storms, though I haven't found a lightning storm worth pursuing yet. The chasers in the Plains saw a dramatic tornado today, with an amazing shot of a tube-within-a-tube. It would have been nice to see, but my chase vacation is over, and I'm glad Vortex 2 finally got a good storm for their research project. See the video.