:: home

:: books

:: gallery

:: data

:: blog

:: kids

:: shop

:: bio

:: help

:: contact

:: ChrisKridler.com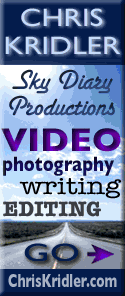 Words/images COPYRIGHT © 2018 by Chris Kridler. All rights reserved. Do not use Sky Diary photos on other Web sites. Personal use as computer wallpaper is permitted, but do not distribute photos. Write for information about purchasing video, photographs or articles. | Frequently asked questions

dispatches: March 2009
back | archive | current Share

17 MARCH 2009
Another great launch: I've photographed just a few space shuttle launches in the kind of beautiful light extant Sunday evening when Discovery launched from Kennedy Space Center. The sun, which had just set, lit up the contrail as I'd hoped, creating a beautiful rainbow-like effect. Colors on the vapor ranged from fiery orange to light blue - strange and wonderful. I was hoping to shoot the Atlas V launch tonight, but it was scrubbed. Still, two photogenic launches within a week is pretty good.

Click on each photo to see a larger version. In the third photo, the bright dots are the shuttle and the falling solid rocket boosters. In the fifth photo - the middle photo in the second row - that's a blurred helicopter seen in front of the contrail.

6 MARCH 2009
Beautiful launch: It is so nice to see a rocket launch on a beautiful night like tonight, when the sand of the beach was moonlit and a crowd gathered in Cape Canaveral to see the Delta 2 light up the sky. It delivered the Kepler telescope into space. The spacecraft will look for evidence of Earth-size planets in our galaxy for the next few years. It's also nice to see a rocket launch on time ... I say that having sat through many, many scrubbed countdowns as a space reporter. Here's my streak shot from this evening, shot with my Nikon D80 using a 12-24mm lens, at the widest angle possible. Click to see a larger version.
It finally feels like spring here on the Space Coast. My roses are in their first flush of blooms after I trimmed them back in January and fertilized them a couple of weeks ago. The other plants are starting to perk up, but only if I water them, since we're getting practically no rain. That's why it's not just our dry season; it's fire season. With luck we can avoid the fires and tropical-storm-induced floods of 2008 this year. I also hope tornadoes avoid people for the rest of the year, though this kind of weather gets me in the mood for my annual storm chase. If there are tornadoes, I hope I catch them in remote fields, and I hope my vacation coincides with the big week this year. It was so frustrating last year to know big storms were in the offing but still be chained to my desk. However, in this economy, it's good to have a desk.

A Delta 2 rocket launches from Cape Canaveral with the Kepler telescope on March 6.