:: home

:: books

:: gallery

:: data

:: blog

:: kids

:: shop

:: bio

:: help

:: contact

:: ChrisKridler.com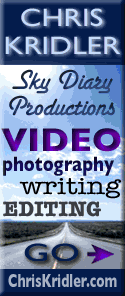 Words/images COPYRIGHT © 2018 by Chris Kridler. All rights reserved. Do not use Sky Diary photos on other Web sites. Personal use as computer wallpaper is permitted, but do not distribute photos. Write for information about purchasing video, photographs or articles. | Frequently asked questions

dispatches: February 2009
back | archive | current

7 FEBRUARY 2009


Ice sculpture? No, just a frozen fish fountain.


Freezing Florida! I'm sure the rest of the country sees us as a bunch of whiners here in Florida when we complain about freezing weather, but we are not used to it. Former Yankees like myself have acclimated to the heat and are very happy about it, thank you very much.
Plus, I have gone crazy planting all kinds of tender tropicals (or subtropicals) in the yard, most of which are not happy about temperatures at 32 degrees F or below. During this week's freeze - the second this winter - I wrapped many of the plants again and hoped for the best. Some of the palms look a little ratty, but it may take time for damage to show. I'm rooting for our coconut palm, in particular. Meanwhile, I left our little fountain running so its innards wouldn't freeze, and it turned into an ice sculpture! It's actually interesting to see some plants go truly dormant that in previous mild winters clung to the illusion that it wasn't winter. The Florida red maple tree, for instance, went completely red and lost all its leaves within a couple of days after the first freeze. It will put out new leaves in the spring. The evergreen live and laurel oaks in the neighborhood, meanwhile, seem to be on an accelerated schedule when it comes to the annual dumping of the old leaves. They are showering little brown leaves on our deck and everywhere else. It reminds me of autumn days in northern climes.