:: home

:: books

:: gallery

:: data

:: blog

:: kids

:: shop

:: bio

:: help

:: contact

:: ChrisKridler.com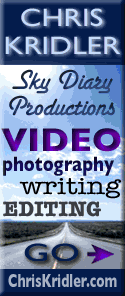 Words/images COPYRIGHT © 2018 by Chris Kridler. All rights reserved. Do not use Sky Diary photos on other Web sites. Personal use as computer wallpaper is permitted, but do not distribute photos. Write for information about purchasing video, photographs or articles. | Frequently asked questions

dispatches: October 2008
back | archive | current

13 OCTOBER 2008


Gracie gets hot at Cavalier Fun Day on Oct. 12


To be a dog: I just about overloaded on adorableness at the Cavalier Fun Day on Sunday, sponsored by the Mid-Florida Cavalier King Charles Spaniel Club.

Wally won waggiest tail. OK, it's just a blur in the background here. But trust me. It's quite the plume.


We took Gracie and Wally, where they got to try out some jumps and running through tunnels and eating treats and, of course, sniffing many, many other dogs. It was still pretty hot and humid, seeing how it's Florida and our fall weather doesn't really kick in till sometime in November. It's also been strangely tropical, with lots of squalls coming off the ocean for the past week, to the point where it's hard to find an hour or two to do anything outside. We were lucky on Sunday. I'm hoping for a break so that when I return to pottery class on Thursday, we can do some raku outdoors. Yay!

8 OCTOBER 2008


Made on a Mac: Wally and I on my laptop's camera


I'm not a computer: If I were I'd be shorting out a lot, given my brain overload. But I am not a Mac. I am not a PC. And I think the current "I'm a PC" commercials, Microsoft's answer to the Mac vs. PC ads, totally miss the boat. When it comes down to it, no matter if you choose sides in the computer debate (which I really don't think is a worthy one), the Mac commercials are funny. John Hodgman is a hoot. And the Mac and PC personages are symbols, anthropomorphications, not actual people. So to take it literally and get all indignant and enlist astronauts and computer geeks and international cool people from all walks of life to act all serious and hurt and say "I'm a PC" really just makes Microsoft look out of touch. Of course those people use PCs -- most people do, by default. I use Macs. I also happen to use PCs. And I'm not a computer.

Whatever computer you're on, you may have checked out Barbara Feldman's "Surfing the Net With Kids" column and site. Well, my kids' lightning page was just noted in the column. Cool! The Kidstorm pages offer a basic guide to lightning, tornadoes, hurricanes and storm chasing within SkyDiary.com ... and it's not just for kids. Heck, I still refer to it myself.