:: home

:: books

:: gallery

:: data

:: blog

:: kids

:: shop

:: bio

:: help

:: contact

:: ChrisKridler.com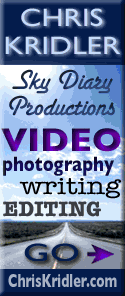 Words/images COPYRIGHT © 2018 by Chris Kridler. All rights reserved. Do not use Sky Diary photos on other Web sites. Personal use as computer wallpaper is permitted, but do not distribute photos. Write for information about purchasing video, photographs or articles. | Frequently asked questions

dispatches: June 2008
back | archive | current

16 JUNE 2008


June 12: Lightning on Florida's Space Coast


What's that wet stuff? We are finally in a pattern that's bringing rain to Florida's east coast. Of course, it's only been one day, but we are in desperate need, and it looks as if we'll get some more as the week goes on. I hope some storms will be included. I got this nice lightning on June 12 when a few isolated cells lingered after sunset (and after my pottery class). I shot it from the Eau Gallie Causeway, between Melbourne and Indian Harbour Beach, looking north toward Cocoa.

9 JUNE 2008
Whirlwind trip: I couldn't resist returning to the Plains one more time, since I couldn't be there for the big week in mid-May. Though the Armageddon forecast didn't pan out June 5, I saw some wonderful storms anyway, especially the following two days, while chasing with Dave Lewison and Scott McPartland. I'm still pretty tired, so I won't write at length now about the trip and the tiny tornado that resulted, but you can see the photos in the 2008 chase reports.