:: home

:: books

:: gallery

:: data

:: blog

:: kids

:: shop

:: bio

:: help

:: contact

:: ChrisKridler.com




advertisement: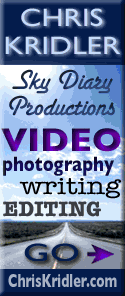 Words/images COPYRIGHT © 2016 by Chris Kridler. All rights reserved. Do not use Sky Diary photos on other Web sites. Personal use as computer wallpaper is permitted, but do not distribute photos. Write for information about purchasing video, photographs or articles. | Frequently asked questions

dispatches: February 2008
back | archive | current

24 FEBRUARY 2008


Builder of the garden


Rough start: My mother died earlier this month. I still find it hard to say that. It's been a terrible time for everyone in our family, even before - far before - we lost her. Her illness took everything away from her, everything she'd ever been able to do or say or think, and that's the worst thing one can wish for anyone you love. So I really haven't had anything to say here, on the Web, to the big wide world, or to the occasional passerby to this Web page. My therapies have been more hands-on ... a pottery class, which I love and wish I'd done sooner; house projects; and a little tinkering in the garden. It's just getting to the point when we can really prune and plant and not worry so much about cold weather zapping our Florida beauties, so I expect I'll be spending a lot of time in the yard soon. The red passionflower, which I thought would be happiest in summer, came to life this winter, blooming like crazy. I guess some things bloom when you least expect them. Maybe that explains the whole hope thing, which I'm trying to rediscover.