:: home

:: books

:: gallery

:: data

:: blog

:: kids

:: shop

:: bio

:: help

:: contact

:: ChrisKridler.com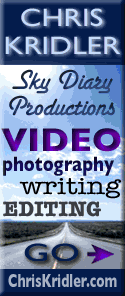 Words/images COPYRIGHT © 2018 by Chris Kridler. All rights reserved. Do not use Sky Diary photos on other Web sites. Personal use as computer wallpaper is permitted, but do not distribute photos. Write for information about purchasing video, photographs or articles. | Frequently asked questions

dispatches: December 2007
back | archive | current

14 DECEMBER 2007


The "ghost cat" of Conrad Aiken's grave


Looking backward: I've posted a couple of galleries of photos from my brief nonstorm travels this year, one from New York City and one from Savannah. The latter includes the photo taken above, of a cat we found haunting Conrad Aiken's grave. It was a sweet, friendly cat, and if I weren't so darn allergic, I would have tried to rescue it. But it looked as if someone was feeding it, at least, and it seemed quite at home among the dead.

I filled the dogs' Christmas stocking today. I admit, it's as much for my amusement as theirs. The stocking is fashioned after "The Dog" style of photos, topped with a dog head with a big nose and little eyes, and, appropriately, it's a Cavalier. Gracie and Wally saw me stuff it, so they keep returning to it to sniff. Last year, Gracie (Wally wasn't around then) kept barking at it. We'll see if Wally can resist it this year, or whether he can refrain from nibbling on the Christmas tree. I've gone fake again, with the narrow tree I bought last year. It's quite pretty, actually, though I miss the sweet scent of fir and the sticky sap on my fingers. And the falling needles and the fire hazard. Well, maybe not all that.