:: home

:: books

:: gallery

:: data

:: blog

:: kids

:: shop

:: bio

:: help

:: contact

:: ChrisKridler.com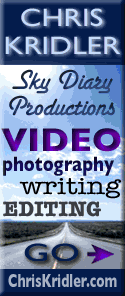 Words/images COPYRIGHT © 2018 by Chris Kridler. All rights reserved. Do not use Sky Diary photos on other Web sites. Personal use as computer wallpaper is permitted, but do not distribute photos. Write for information about purchasing video, photographs or articles. | Frequently asked questions

dispatches: October 2007
back | archive | current

4 OCTOBER 2007
Shameless self-promotion: The 2008 Skyscapes calendar is now available in the Storm Stuff Store. Lots of lightning and colorful storms can be found in the photographs - from those I consider classics to hot new ones from this year. Check it out.

2 OCTOBER 2007


Savannah gravestone: 'She did what she could' (click for larger)


Do what you can: Bonaventure Cemetery in Savannah, a beautiful place filled with historic graves, has a lot to say. This gravestone left a lot unsaid, but it made me wonder as we visited over the weekend: "She did what she could." Her name was Martha, and she died in 1889. So, what does this mean exactly? That she couldn't do much, so we should be grateful for what she did? Or she did a great deal? Or is some great obstruction implied that made it hard to do anything (like, I dunno, the war - the Civil War?)? There is a lot unsaid, and, by implication, there was a lot undone. It's true of all of us. Watching the news on PBS tonight, I saw the sad and silent parade of faces at the end, young men and women killed in Iraq. They did what they could. It's too bad their lives were spent so freely. Those of us at home in relative comfort don't have a lot to whine about. Continuing on my earlier theme, it's a good idea to enjoy what we've got rather than think too much about what we don't have. A friend and writer cracked me up recently by telling me, "Trust me, there's great happiness in giving up." I haven't given up. But I'm going to do my best not to take everything so seriously ... at least until my next mood swing. Don't mean a thing if it ain't got that swing!

1 OCTOBER 2007


Juxtaposition: Lizard and paphiopedilum


Lots to think about: September was one of those months: a big birthday, an anniversary, travels and a lot to ponder. First, age. After a certain number of decades, I really thought I'd have some stuff done by now. Like a novel published. Maybe kids. Maybe a certain sense of accomplishment. Well, the latest novel is still waiting to be discovered, we've just about ruled out kids, and I have a sense that I haven't accomplished anything. Is our culture too obsessed with success? A guy at work has posted Oscar Wilde's quip "Ambition is the last refuge of the failure." So if you really want something, are you a failure because you're not happy with what you've got? Quite possible. If you can't be happy in the moment, you are a bit of a failure, since everything is temporary, including us.

Spreaking of moments, this lizard perched tonight on a paphiopedilum on our back patio, a perfect expression of balance. Balance isn't a bad goal.