:: home

:: books

:: gallery

:: data

:: blog

:: kids

:: shop

:: bio

:: help

:: contact

:: ChrisKridler.com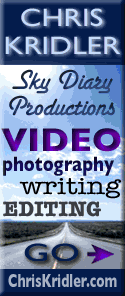 Words/images COPYRIGHT © 2018 by Chris Kridler. All rights reserved. Do not use Sky Diary photos on other Web sites. Personal use as computer wallpaper is permitted, but do not distribute photos. Write for information about purchasing video, photographs or articles. | Frequently asked questions

dispatches: August 2007
back | archive | current

26 AUGUST 2007
Fantastic lightning: Just when I thought there would be no respite from the drought, we had a prolific night of lightning on Friday. A line of storms formed offshore, parallel to the coast, one presumes from a boundary left over from earlier storms ... unless it was one of those Gulf Stream things. I didn't analyze it ... I just chased it. Regardless, the stuff strobed beautifully. Cheryl Chang and I headed out and shot photos looking east, over the Banana River toward Cocoa Beach. An example is at left. For more, see the Aug. 24 report in the gallery.

I would have posted photos sooner, but we had a party celebrating my husband getting his master's degree on Saturday, and I was running around crazy. And then he surprised me by turning it into a birthday party for me, a month early, with a fantastic chocolate cake. People sang and the works. It was sweet and embarassing. Why the fuss? I have a rather big birthday coming up. I'm not crazy about the ones with zeroes on the end, but hey, there was cake! So I was exhausted today, but we started ripping out all the fixtures and the floor in our downstairs (aka party) bathroom so we can refurb it in a funky jungle style. I'll probably post pix when we're done, unless it's a complete disaster. And now I'm way beyond exhausted. More like steamrolled.





Hurricane Dean heads for Mexico (NOAA image)


DISPATCHES
13 AUGUST 2007
Here we go again: The brain tingles. The heart beats faster. And I wonder if our house and community will survive another hurricane season as TD 4, soon to be Dean, heads our way. Sure, I am fascinated by storms, but I am not thrilled with those that come after me. Get the latest data in the tropical weather links. (Note in hindsight, several days later: We had nothing to whine about - we got really lucky. Note the NOAA image.)

10 AUGUST 2007


Endeavour heads to space station, 8 August 2007


Launch: The weather sure dried up, leaving storm chasers with little to do, but it was good for the launch of shuttle Endeavour earlier this week, on Aug. 8. I shot this from the press site at Kennedy Space Center. However, I'm looking forward to the return of rain for the plants, which have gone from happy to miserable, and lightning for my camera.