:: home

:: books

:: gallery

:: data

:: blog

:: kids

:: shop

:: bio

:: help

:: contact

:: ChrisKridler.com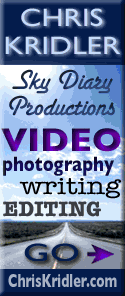 Words/images COPYRIGHT © 2018 by Chris Kridler. All rights reserved. Do not use Sky Diary photos on other Web sites. Personal use as computer wallpaper is permitted, but do not distribute photos. Write for information about purchasing video, photographs or articles. | Frequently asked questions

dispatches: July 2007
back | archive | current

30 JULY 2007
Let's get tropical: Tropical Depression 3 is here. Get more info in the tropical data links.

24 JULY 2007


Detail of crawler lightning in central Florida, 24 July 2007


Finally, nature's fireworks: I've been hoping for a lightning show like tonight's, and finally got it. I've seen more intense and persistent lightning, but there were just enough choice crawlers to make photography exciting. Cheryl Chang and I went chasing the storms even though it appeared they might be dissipating, and instead got pretty cells firing off colliding outflow boundaries. I still love film, but nights like these make me appreciate digital. With a little light still in the sky, I was able to get my exposure right, and I could waste all the shots I wanted waiting for those oh-so-rare crawlers as the storms died a lovely death. We talked about luck being so important to lightning photography, and I would add persistence. Luck and persistence are absolutely necessary. It takes a lot of patience to keep snapping away as the mosquitoes of the barely concealed Florida swamp drain you of blood. Check out the pictures here; my favorite is the last one (detail above), which is much better at full and glorious size. Unfortunately, that's not what you'll get on the Web.



Me, Simpsonized!


22 JULY 2007
More storms: Got a pretty, low-key tour of the skies of Florida's tropical prairie on July 22. See the pix.


19 JULY 2007
In toon: This is pretty cool. Burger King, master of the viral promotion, has a way you can turn yourself into a "Simpsons" character. Just upload the photo at simpsonizeme.com. Note the two dogs. They're at least the right color, even if they are clones of Santa's Little Helper.

Speaking of celebrity dogs, Polly Purebred in the new "Underdog" movie is a Cavalier! She looks a lot like Gracie. It's eerie. Woof.



16 JULY 2007


Rainbow on July 15, 2007


Great week for storms: An active week and weekend ended Sunday with another great chase. Cheryl Chang and I went from Cape Canaveral to Palm Bay, seeing all kinds of beautiful storm features, from sculpted anvils to shelf clouds to lightning to a fantastic rainbow and sunset. Only thing missing was a tornado, but you can't have everything. Check out the pix from July 15 in the storm reports.

I painted a picture this weekend, too. It's been, literally, years since I painted anything. I painted my favorite storm photograph. I think I still like the photo better, but it was interesting to see it in a different way. Ever since college, really since forever, I've yearned to have enough time to pursue all such endeavors - including painting, music, and of course writing - but that old work thing gets in the way of my becoming a full-time Renaissance woman. Can I be one part-time?



14 JULY 2007


Funnel cloud, 14 July 2007


Funnel cloud: It may not look like much, but this was a genuine funnel cloud that fellow storm chaser Cheryl Chang and I spotted over Merritt Island today. It was a nice cone before I got my camera rolling, though we didn't see it touch down, and the rain made for a less than ideal view. Before that, we saw storms' outflow boundaries collide before our eyes. The shelf clouds clashed and created fascinating interfaces and areas of rotation. That was on the mainland. The show made for pretty photos. Check out the pix from July 14 in the storm reports.


11 JULY 2007
Lightning! Check out the pix from July 11 in the storm reports (a sample is at right; I had a slight jitter on the water tower in that shot, probably because I was so excited to see that bolt!).


7 JULY 2007


Looming shelf cloud, 7 July 2007


Lucky storms: On the fabled 7/7/7, I got a chance to see some gorgeous weather here on the Space Coast. This amazing shelf cloud swept over the Banana River followed by intense rain and lightning. Cheryl Chang and I chased it, or it chased us. After so many rainy days without a lot of photogenic storms, it was exciting to see a truly chaseable one. See more pictures from Saturday here.

The rain has been inspiring, too, since it's making the plants lush and green, so I spent a lot of time this weekend in the brutal heat planting a few new ones and weeding. Ugh. The coolest effect of the monsoon in our yard has been the skyrocketing new culms of the Timor Black bamboo, which I planted just last year. I think when it's done growing, there'll be a giant at the top of it!