:: home

:: books

:: gallery

:: data

:: blog

:: kids

:: shop

:: bio

:: help

:: contact

:: ChrisKridler.com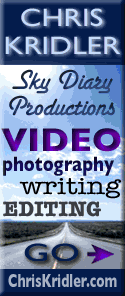 Words/images COPYRIGHT © 2018 by Chris Kridler. All rights reserved. Do not use Sky Diary photos on other Web sites. Personal use as computer wallpaper is permitted, but do not distribute photos. Write for information about purchasing video, photographs or articles. | Frequently asked questions

dispatches: June 2007
back | archive | current

30 JUNE 2007
What's valuable anyway? I went to the "Antiques Roadshow" in Orlando today after getting tickets a while back through the PBS raffle. It was fun - a crazy mob scene, actually - but also illustrative of the point that everyone thinks they have a treasure, and a lot of it is crap. I knew the stuff I brought wasn't particularly valuable, but I was hoping to get a little history. I did - very little. But it was amusing anyway. And I can now say my flapper-era marcasite frog ring was officially declared "a fun piece."

12 JUNE 2007


Florida lightning, 11 June 2007


Taste of atmospheric excitement: We've had three days of storms in a row here on Florida's east coast, and I love it. One, I get a little lightning and thunder, and two, the plants get watered! If I were fussy, I'd ask to get the lightning after dark, however. It's more fun to take pictures of it that way. But this picture isn't bad for daytime. See more pictures here.



Shuttle Atlantis launches from Kennedy Space Center, 8 June 2007


8 JUNE 2007
Up, up and away: This was the first shuttle launch I've seen in a while as a "civilian," or at least, not as a space reporter. (I recently moved to a different beat.) It was strange not to be at the center of the excitement and tension, but I had a good time with the in-laws watching Atlantis lift off from our perch at KARS park. It was beautiful and on time! That's a wonderful thing in itself. Launches never fail to be impressive, as engineering and grace come together in one visceral display of power. And they're in our backyard. How cool.

6 JUNE 2007
Live chase video: This is so cool. A couple of storm chasers, Kory Hartman and Kenny Allen, are streaming live video from their chase vehicle of their pursuit of the storms today. Sometimes the connection is flaky, but wow. It's at SevereStudios.com.



Rose after rain from ex-Tropical Storm Barry


5 JUNE 2007
Great timing: I just got back to Florida after a weekend trying to help out my parents in Pennsylvania. Why do they need help? Oh, too many tragic reasons, all of which are weighing me down as I see a potential tornadic outbreak in the Plains tomorrow, while my workplace will not allow me to jet off and chase it. So many reasons to be happy. Sometimes I count my blessings, but today I am counting my curses. I was talking with a fellow chaser this evening about the compromises one constantly makes when it comes to pursuing your passion and also having a balanced life. Balanced, of course, means that you have other things in your life that are meaningful, if not in the same way tornadoes are. Does true happiness lie in headlong pursuit of the passion? For spurts, I think, but maybe not full time, especially when it's seasonal ... unless you are of a scientific bent and pursue the passion as a career. For me, the experience is more aesthetic, and I do like having a decent place to live, people and dogs around me whom I care about, other fulfilling passions such as writing and photography, and so on. But I want it all. Gimme. :) Or, I must figure out how to gettee.