:: home

:: books

:: gallery

:: data

:: blog

:: kids

:: shop

:: bio

:: help

:: contact

:: ChrisKridler.com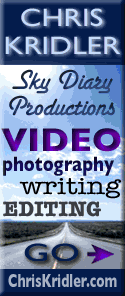 Words/images COPYRIGHT © 2018 by Chris Kridler. All rights reserved. Do not use Sky Diary photos on other Web sites. Personal use as computer wallpaper is permitted, but do not distribute photos. Write for information about purchasing video, photographs or articles. | Frequently asked questions

dispatches: March 2007
back | archive | current

21 MARCH 2007
Zooming: The new puppy has been zooming around the house,

Carolina anole


and I've been zooming with my camera. I got some new gadgets, including a Kenko 2x teleconverter. That's what I used to shoot the lizard picture seen here, combined with my 70-300mm. Actually, the critter is a Carolina anole. I wouldn't use the teleconverter as a substitute for macro work with my 105mm, a lens I love, but it's fun to see how close it gets me. I'm hoping to catch some of the birds who flit through the huge oak tree in the yard behind ours, including a falcon of some type that we've been seeing. It's so hard to see them for long enough to identify them, given how similar various birds' coloring is.

OK, here's one more shot, with a "normal" lens: Gracie with puppy Wally behind her.



10 MARCH 2007


Wally, March 2007


Dogmania: We've apparently gone dog-crazy here at storm central. Gracie's nephew is now living with us, dubbed Wally. It's kind of a variation on the name the breeder had been toying with, "Walker," which sounded way too much like "Walk." Not sure what his full formal name will be yet, but Wally seems to suit his silly energy well. He's constantly launching playful attacks on Gracie, only they're so intense, our dear Little Miss Submissive ends up fleeing half the time. It took Wally exactly one day to learn to jump on the couch, but he still hasn't figured out the doggy door, so she occasionally finds refuge. And then there are moments like now, when both are sleeping on the couch next to me in full angelic mode. There are few things sweeter than a sleeping puppy, all worn out from having fun.