:: home

:: books

:: gallery

:: data

:: blog

:: kids

:: shop

:: bio

:: help

:: contact

:: ChrisKridler.com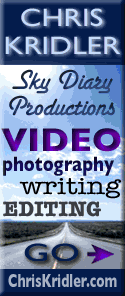 Words/images COPYRIGHT © 2018 by Chris Kridler. All rights reserved. Do not use Sky Diary photos on other Web sites. Personal use as computer wallpaper is permitted, but do not distribute photos. Write for information about purchasing video, photographs or articles. | Frequently asked questions

dispatches: February 2007
back | archive | current

27 FEBRUARY 2007


Needy pug, 24 February 2007


Poor poochies: I went to the Posh Pooch event in Celebration over the weekend with our dog Gracie and spent a lot of time looking at rescue dogs like the one here. Is there anything that tugs at the heart more? At the same time, you have to be right for the dog, and the dog has to be right for you. We've been looking at Petfinder and have had some really frustrating communications with some of the rescue groups listed there. One even said the dog we were interested in couldn't be adopted out because it had kennel cough, and then it disappeared from the site, probably adopted out - while the person communicating with us responded to almost no e-mails and wouldn't give a name or phone number. Sketchy. Maybe they needed the $300 adoption fee. On the other hand, some rescue groups are wonderful, and we had great communications with DARE, a dachshund rescue group. Our problem is that we have a lot of stairs, and we're worried about how a wiener dog will handle them. By the way, Gracie turned reporter for the Pet Expo in Orlando. Look for the video here (Firefox browser recommended).

20 FEBRUARY 2007
Heroes can be dumb sometimes: I hate to admit it, but I'm addicted to a TV show again. "Heroes" is really fun escapism most of the time, but now that I've sat through several episodes and heard enough catch-phrases to fill a dozen movie posters,

Ex-hero (NBC image)


I'm noticing how dumb and repetitive these heroes and their buddies can be. Wandering scientist Mohinder must be pretty clueless to be road-tripping with a serial killer, especially when he's already been hoodwinked once by one of these genetic freaks. Claire, who used to seem cool and well-adjusted, is whining a lot. And in the new episode, they kill off a fresh hero just as soon as they introduce her. Hey, I thought she was cool - first, she uses power tools; second, she looked like she could kick Sylar's ass; and third, she's the only woman hero so far who didn't look like she just walked out of the pages of Vanity Fair. Plus I remember her in "Twister," which tells you just how many times, embarrassingly, I've seen that movie. Ah, well. Life, and fiction, have an equal number of short-lived guest stars, and both are about disappointment. Like when I wake up from yet another dream about being telekinetic, and I'm not.


13 FEBRUARY 2007


After the storm, Indian River Lagoon, 13 February 2007

Fresh wind, thin air: We had a terrific line of storms blast through today, and at least this one wasn't as violent as the recent tornadoes. It splashed a gorgeous double rainbow into the sky before hurtling offshore and out of the sun's reach. Tonight, we went to see "An Evening with Garrison Keillor" at the King Center. After parking at the farthest reaches of the soggy meadow they call a parking lot, we slogged our way into the theater and up the clifflike stairs to the nosebleeds in the Grand Tier, where we basically got to watch Garrison on TV, and a blurry TV at that. The projection screens were fine compared with the uncomfortable seats. I'm always seated next to the big guy whose legs have to be spread apart as if he's about to leap into a sumo match at any moment. It's like flying Delta Song. Worse, the show was disappointing. Sure, Garrison got a standing "O," but so many people do. Frankly, I wanted a little more than an extended story from Lake Woebegon. Those are charming in their way, but during an "evening with" someone, I'd like to hear a little bit from the inside. What does he think? Do? How about a story from a book tour or backstage from the movie "A Prairie Home Companion"? He's a writer. I'm a writer. I wanted some writerly insight. Instead I walked away thinking I should've just bought the CD or listened to the radio. However, I really liked his red shoes and socks. I could see those from atop Mount Everest.

8 FEBRUARY 2007


Hole in the wall, Italy


Rejection: I've experienced my share of writing rejections, and now, I'm getting to experience rejections of my photos, including pictures I thought were pretty nice. The place to be put in your place is iStockphoto.com, where I've managed to get a few pictures by the judges and several, not. An example of one of the photos rejected was the one shown here, apparently for lighting reasons, even though it's one of my favorite photos from a trip to Italy in 2005. I'm learning that a lot of lighting I consider moody, interesting or textural is not what is desired. I don't know if they want bright or boring or what, but I guess if it's a stock photo, it's not art, though the site has some very nice pix. I'll keep sending what I consider high-quality yet inoffensive stuff, and we'll see. I just signed up, so it's a learning process, and it's made me hungry for more megapixels.

5 FEBRUARY 2007


Distorted portrait


Objectivity: I have written about space a lot in my job, and I've interviewed astronauts, including Lisa Nowak, just arrested in a bizarre case in Orlando. She is accused of the attempted kidnapping of a purported rival for the love of another astronaut, according to the police report. Journalists are supposed to remain objective, and in this case, it should be easy to do so, because most journalists don't get close enough to the astronauts to know them really well. Fair enough. They deserve private lives (and as legend has it, they've had them), and most of those I have met have impressed me with their talents, smarts and good humor. Some are just tight-lipped, and again, it's their right to be so. While remaining objective, what I can say is that when a private life becomes this painfully public, it's simply sad news for everybody involved - including all astronauts, her kids, any girl aspiring to be taken seriously in a scientific career, and Ms. Nowak herself. That sounds like a heavy burden. I guess it is, when you're dubbed the best of the best and then have to live up to it.