:: home

:: books

:: gallery

:: data

:: blog

:: kids

:: shop

:: bio

:: help

:: contact

:: ChrisKridler.com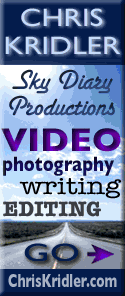 Words/images COPYRIGHT © 2018 by Chris Kridler. All rights reserved. Do not use Sky Diary photos on other Web sites. Personal use as computer wallpaper is permitted, but do not distribute photos. Write for information about purchasing video, photographs or articles. | Frequently asked questions

dispatches: December 2006
back | archive | current

16 DECEMBER 2006



Stopping by woods on a foggy morning: With apologies to Robert Frost,

Beech branches rise into fog


my stroll through the dreamy fog one morning this week in Pennsylvania made me contemplate the beauty of winter, even though it's not quite winter and was pretty darn warm. I shot fog photos (below) several days ago in Florida, and the contrast was interesting. The bare branches of the northern trees seem to layer forever into grayer and grayer latticework.

So it's that time of year when one goes shopping, charges up the card, and then, one hopes, pays it off. I was trying to do that this morning when the Macy's Web site forgot my previous registration, so I called customer service. That is, I called their Voice Mail Hell, which offered no option to talk with a human being. And it was one of those awful systems where you have to say everything - you can't just punch in a number. After repeated attempts to connect with a person by shouting "help," "customer service" and "human being," I finally resorted to that beloved exhortation in the spirt of the holiday season, "F*** you." Immediately, the electronic voice told me cheerfully that it would transfer me to a customer service representative. My conclusion: Tell off the voice mail system before it ticks you off.

3 DECEMBER 2006


Sunrise shrouded by fog over the Indian River Lagoon


Soft lines: To quote "Oklahoma!" - oh, what a beautiful morning. It wasn't sunny. It was enveloped in fog ... soft, gray, almost black and white, but stirred with tendrils of green. The river was a silver plate, reflecting the rough geometries of the docks, or the remains of docks. The sun was high in the sky before it showed itself, first as a winking disc half-obscured by the smoky mist, and then, finally, as a sphere of white light. And then the fog was washed away as we had another one of those crazy 82-degree December days. I'm ready for the cold snap. Since I was already uncomfortably hot, I expanded a flower bed, dug a hole and planted the monkey-puzzle tree I found on eBay. It's just a runt, for now, but they can get HUGE. So I'll have to keep an eye on its girth, if I live that long. I got it mostly because it's so strange and prehistoric-looking. I see the yard as a bit of a laboratory. The only problem is that the experiments will take decades to mature, and by then, who knows where I'll be? Perhaps scattered as ashes among the mulch.