:: home

:: books

:: gallery

:: data

:: blog

:: kids

:: shop

:: bio

:: help

:: contact

:: ChrisKridler.com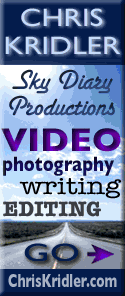 Words/images COPYRIGHT © 2018 by Chris Kridler. All rights reserved. Do not use Sky Diary photos on other Web sites. Personal use as computer wallpaper is permitted, but do not distribute photos. Write for information about purchasing video, photographs or articles. | Frequently asked questions

dispatches: November 2006
back | archive | current

27 NOVEMBER 2006

Art in a box? My contribution to the One Million Masterpiece


One in a million: I checked out the One Million Masterpiece today. That's the art project aiming for a record one million contributors, all wrapped up in one digital work. It's also asking for charitable contributions. It makes a lot of statements about its vision and bringing the world together, but really, it's a bunch of insignificant little squares, with a few beams of light among them. So it's not art, but in a way, it is, because its mass of insignificance makes a statement about humanity in general. If you don't feel small, you haven't thought about the universe very much. If you don't respect nature, you don't understand your purpose. If you don't think about death, you probably still have a lot left to do. Time is excruciatingly short. I feel as if I can never do enough to make the most of it. And as much as I love sleep, I curse it, too. I'm tired. But I'm trying to fill my insignificant little square.

17 NOVEMBER 2006


A Delta 2 lifts off from Cape Canaveral with a GPS satellite, 17 November 2006


Liftoff: Few launches are this pretty and this prompt. What a crazy day. I was switching gears from features reporter to space reporter and back again. My interview with a Major Author was put off due to circumstances outside my control. And Florida winter has set in. Don't laugh. That means the plants flower less, seem to shrink a little. And the orchids come inside. The downstairs bathroom is a ridiculous jungle. I need a new system.

12 NOVEMBER 2006
Going indie: After seeing the fun film "I'll Believe You" (hate the contraction, but quite enjoyed the movie) at the Melbourne Independent Film Festival here on Florida's Space Coast, I got to thinking that I'd rather see a small, entertaining film like "I'll Believe You" that has that "indie" feel - that is, not all that slick - rather than a sleekly violent, vomitous mass like "Con Air."

Filmmaker Sue Dontell's footwear of choice at the Melbourne Independent Film Festival


Adding to the amusement for the local crowd, who saw the premiere last night, was not just appearances by stars such as Patrick Warburton, but all the local locations in the show. I've never heard so much applause during the credits. Now, my husband is regretting not going up to Patrick Warburton and quoting one of his lines from the amusing, quickly canceled show "The Tick." We say it often around our house, as it's frequently applicable: "Gravity is a harsh mistress." He was such a good sport, posing for photos with kids and signing autographs. So were the other up-and-comers in the movie. Going to an event like this fest gives a girl some faith that it's possible to make dreams come true, even small ones.

After that sweet rumination, let me get a little bit commercial. Hurricane ornaments, posters, T-shirts, calendars and more are on sale in the Storm Stuff Store, and it's getting to be that time of year. Find a gift for your favorite weather geek.