:: home

:: books

:: gallery

:: data

:: blog

:: kids

:: shop

:: bio

:: help

:: contact

:: ChrisKridler.com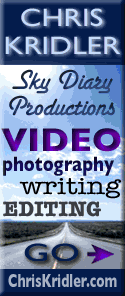 Words/images COPYRIGHT © 2018 by Chris Kridler. All rights reserved. Do not use Sky Diary photos on other Web sites. Personal use as computer wallpaper is permitted, but do not distribute photos. Write for information about purchasing video, photographs or articles. | Frequently asked questions

dispatches: October 2006
back | archive | current

17 OCTOBER 2006
Festive festival: What a great show in Winter Park this weekend.

Freight train with photo of train and photographer's shadow. That is, me.


The Autumn Art Festival was blessed with perfect weather, though the persistent dry days here made the ground dissolve into invisible clouds of dust that settled all over the pictures and me, too. I got lucky and won a red ribbon, which made the experience even better. There were a lot of wonderful artists there, so I was pleasantly shocked to place. It's so inspiring to see what other people envision. I wish I had unlimited free time so I could focus on creating art and becoming a Renaissance woman.

Shopping for lollipops at Winter Park


It's funny watching people at these shows. I love kids' enthusiasm. On the other hand, I'm terrified of their bright blue Italian ices and their juice boxes, especially when parents let them sit their food and drink down in the vicinity of the merchandise. I spent some time wiping fingerprints off glass, too. And I am always glad to share lollipops - that's why I bring them - but it's funny as hell when people spend more time shopping for the right flavor than they do looking at the pictures. Art festivals: Aren't they festive? Want a lollipop, too? Stop by my booth at the Cocoa Beach show - the Space Coast Art Festival - on Thanksgiving weekend.

12 OCTOBER 2006


Texas storm from 2001 ... one of the pictures in the show


See ya in Winter Park! I'll have a booth at this weekend's Winter Park Autumn Art Festival, Central Park on Park Avenue, in Winter Park, Florida. Learn more here. The hours are from 9 to 5 Saturday and Sunday.

7 OCTOBER 2006


Happy Cavaliers


Dog's life: We went to a dog fest last weekend that allowed our little Cavalier King Charles spaniel, Gracie, to mingle with other dogs of her ilk and a bunch more besides. (She's the one on the right in the photo.) One bigger dog was dressed as Elvis. I think it was a golden retriever. Anyway, it was one of those big dogs that seem very sweet and loyal but not too bright. Good thing, because it didn't realize how much it was being abused. It's one thing to get a little cute with your dog - I'm guilty of putting a T-shirt on Gracie - and another to humiliate the pooch entirely. William Wegman has a lot to answer for.
Of course, I'm not going the other way in terms of de-civilizing our dog. Making Gracie a free-range spaniel is not an option. She's perfectly happy being well-fed and cuddled and having a ramp with which she can reach our bed. (Again, I know, a ramp seems excessive, but it's all to prevent injuries, 'cause she's gonna try to jump up and down anyway.) And when I'm out working in the new dog yard and she's outside with me, she's the first one to want to go in. It's too hot. She knows it. In practical matters, she's smarter than I am, apparently. And if given the choice, I am also pretty sure she would not opt for a tiara or a skirt, like some other dogs. Thank dog for that.