:: home

:: books

:: gallery

:: data

:: blog

:: kids

:: shop

:: bio

:: help

:: contact

:: ChrisKridler.com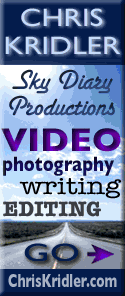 Words/images COPYRIGHT © 2018 by Chris Kridler. All rights reserved. Do not use Sky Diary photos on other Web sites. Personal use as computer wallpaper is permitted, but do not distribute photos. Write for information about purchasing video, photographs or articles. | Frequently asked questions

dispatches: September 2006
back | archive | current

26 SEPTEMBER 2006


Buzzing in the penta, September 2006


Nature or nurture: I guess I should feel like I'm in touch with nature when I'm out among the droning insects and the flowers, planting plants and digging in the dirt. But really, I think at some futile level I am trying to thwart nature, because this is Florida, and nature is not something you can compartmentalize into a garden without some agony. I got an edger for my birthday. I know, every girl's dream. But I kinda wanted one. I wanted to have a neat edge on the sidewalk and be able to tame the crabgrass jungle when it crawls across the concrete driveway. Let me tell you, my first stab at edging today was not easy. The grass does not want to be tamed. It doesn't really want us here. In fact, there wouldn't be much grass at all if we were gone, but instead palmettos and more palmettos and a variety of stinging plants and insects. That said, I can't wait till all the new hibiscus and croton and palms I planted grow up, into what I hope will be a somewhat navigable jungle. Anything more formal than that would be disrespecting the subtropics.

21 SEPTEMBER 2006
Can I sleep now? I'm amazed that astronauts can get any rest with their heavy work schedule in space,

Atlantis lands at Kennedy Space Center, 21 September 2006


the strange surroundings, the crowded quarters and each orbital day lasting 90 minutes - a sunrise or sunset every 45 minutes. Old research showed as many as half of astronauts take some kind of sleep aid in orbit. But as a space reporter, I realized during the Atlantis mission, which concluded today, that the astronauts were probably getting more sleep than I was. At least they had a set sleep time. Instead I was up at both astro hours (middle of the night) and civilian hours (for daytime briefings), mixed with husband hours and dog hours. If I spent six months in a cave like Michael Siffre in 1972, whose days lengthened by as much as six hours, I can see myself settling into about 20 hours awake, so I could really get some projects done, and 12 hours asleep. Gosh, that sounds nice. Zzzzz. Huh? What? Did you say something? I dozed off.

19 SEPTEMBER 2006


19 September 2006, NWS Melbourne radar


Bad joke: It's Talk Like a Pirate Day. So here we go: How do pirates chase storms? Radarrrrrrr!

18 SEPTEMBER 2006


Hurricane Gordon on 14 September 2006 (NASA image)

Eye spy: We're not getting hurricanes - probably a good thing - though Gordon has looked pretty impressive. (The picture is from NASA's cool Earth Observatory site.) We're not even getting run-of-the-mill storms, while tornadoes (sorely lacking during my Tornado Alley trip last spring) are tracking across the northern Plains. It's not good times for storm chasing in Florida. Of course, it looks like we'll get storms just in time to interfere with shuttle Atlantis' planned landing at Kennedy Space Center on Wednesday. ("Nooooo!" screams the sleep-deprived space reporter.) Life is an exercise in delayed gratification. If you short-circuit the delay, you could cheat yourself out of what you want. For instance, literary agents look down upon self-published books, so before I go that route, I'm going to put myself through the rejection process several more times in hopes of reward for my patience. Often, delay makes things seem better once they arrive ... love, success, marriage, a good meal. Unless you're hit by a bus first.

10 SEPTEMBER 2006
Storm calendar: Now in the Sky Diary Storm Stuff Store is a 2007 Skyscapes calendar featuring a year of storms and skies. Click on through to see all the pages, as well as the other stuff in the store - T-shirts, stickers, journals, Hurricane Katrina ornaments (a surprisingly popular item last season), and so on.

9 SEPTEMBER 2006


Atlantis up! 9 September 2006


1 p.m. update: Launch! After delays caused by a tropical storm, a lightning strike and technical bad luck, Atlantis lifted off from Kennedy Space Center today.


| | |
| --- | --- |
| Atlantis sunrise, 9 September 2006 | Another shot, looking east |
Scrub a dub dub: Shuttle Atlantis is going to try to launch again today after yesterday's scrub. The dawn is still evolving, but it's pretty spectacular at Kennedy Space Center. The white dot in the lower left of this image (Atlantis sunrise) is the shuttle, brightly lit on the launch pad. We'll see how it goes.

6 SEPTEMBER 2006
Mourning the Crocodile Hunter:
My tribute to Steve Irwin ran today in Florida Today. I loved that guy. Check it out.

I just got a form-letter rejection for the novel I'm pitching. That's not unusual in the whole submission process, but I've been playing tag with this agency for months. They lost my manuscript, then responded to my follow-up and asked me to send it again. I just wish after spending fifty bucks on copies and postage and investing so much time, I'd get one hand-scribbled line telling me "it sucks" or "not for us" or "would love to rep it but we're just overloaded with brilliant novels right now." Especially that last one.



4 SEPTEMBER 2006


Sailing before the storms, 4 September 2006


Dark wind: Speaking of unwise behavior (see previous post on flying kites in a lightning storm), we went boating today in Florida. Boating on any summer day in Florida almost inevitably means an encounter with a storm. The picture shows another boat that was a lot bigger and a lot more posh than ours. (Click to see a bigger version.) Come to think of it, we should have stayed in its vicinity, and maybe it would have caught the lightning bolts. As it was, we barely stayed ahead of the cells as they popped up along the sea breeze boundary, and the Indian River got bouncier and less pleasant as the afternoon wore on. The storms were pretty, though. Now Tropical Depression 6, soon to be Florence, is looming in the Atlantic. I don't know why I'm surprised. It is the peak of the hurricane season, but I've been lulled into complacency by the strangely low number of storms. Why do we have all that plywood in the shed if we can't put it on the windows at least once a season? Learn more about this and other storms in the tropical data links.

3 SEPTEMBER 2006


Benjamin Franklin wannabes? Florida shelf cloud, 2 September 2006


The importance of being Ernesto: Ernesto got us all in a tropical depression here on the Space Coast last week as we contemplated power outages and all the other fun that comes with a hurricane or tropical storm. And then it totally wimped out. I don't generally want a hurricane to run over us, but I was hoping for a little more wind. Instead, I enjoyed some great meteorological drama on Saturday as this fantastic shelf cloud swept into Rockledge. Florida has mastered the art of beautiful clouds. There were some local kids flying kites as the storm approached, rather inadvisedly. See more images from this storm in the chase report.