:: home

:: books

:: gallery

:: data

:: blog

:: kids

:: shop

:: bio

:: help

:: contact

:: ChrisKridler.com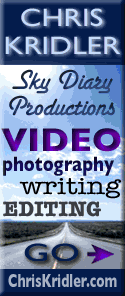 Words/images COPYRIGHT © 2018 by Chris Kridler. All rights reserved. Do not use Sky Diary photos on other Web sites. Personal use as computer wallpaper is permitted, but do not distribute photos. Write for information about purchasing video, photographs or articles. | Frequently asked questions

dispatches: August 2006
back | archive | current

21 AUGUST 2006


Hummingbird in Pennsylvania



Frozen motion: This is starting to look like a bird-watcher's page. That's not my intention, really, but there are no storms to take pictures of at the moment. We're having drought-like conditions in what should be our rainy season in Florida. I just came back from Pennsylvania, where family troubles are casting clouds over the pretty denouement of summer. The hummingbirds come and go, greedily slurping at the feeder my dad has hanging on the porch, while we lose my mother to a progressive and terrible disease. Several of my friends are quitting or switching jobs. Everything is changing, and I wonder if I need to be changing, too ... voluntarily, rather than in the involuntary way change changes us. Got that? It's late. Everything's a riddle. Adapt, go forward, get ahead of it, and remember that it's all too short.

10 AUGUST 2006
The glamour of travel: It's amazing how a few deranged people can bring the entire world to a freaking grinding halt.

Ben & Jerry's Berry Berry looks berry much like mushed human hearts, don't you think? (At least in this cell phone photo)


I spent a ridiculous amount of hours in the Orlando airport today after the terror arrests of people, and I use that word gingerly, who apparently planned to use liquid explosives to bring down several airliners. Long tables were set up the airport next to trash cans, and some security guru kept shaking his head as would-be passengers held up various cosmetics for rejection. I couldn't believe I couldn't carry toothpaste on the plane. I actually put toothpaste on my toothbrush so I wouldn't have to buy a tube when I got to my destination (I'm in Houston for one night, I hope). So anyway, contraband cosmetics were set out on the table like bargain day at the CVS. The companies who make shampoo etc. are going to have a fantastic bottom line this month. I showed up about three hours early and got through security in less than 10 minutes. Then the flight was delayed by a couple of hours. My chief lesson from this grueling day is that the food choices in the Orlando airport really suck. I do like Ben & Jerry's, but one can't live by B&J alone. And the Berry Berry stuff really does look like mutilated human hearts (note the picture).

2 AUGUST 2006


Angles and flowers


Lousy thieves: Is MySpace the root of all evil? No, but it's a haven for banality, ego and stolen photos. I was checking out Web stats last night and saw many dozens of MySpace pages using pictures from my site without permission. You may say, what's the harm? Well, these thieves aren't even clever about it. They're stealing my bandwidth, too. That is, my site is serving up the pictures for their pages. Dude, I pay for that. I'm not the only photographer, obviously, whose work is posted illegally all over MySpace. The entire sprawling mess seems to be plastered with copyright violations. Any one page may have dozens of stolen pix from various sources. I saw pictures by fellow storm chasers, too, including the venerable Chuck Doswell and Roger Edwards (they also mark their copyright on their photos). If MySpace users had any originality, they'd take their own damn pictures. Stealing them? That's just not cool, kids.