:: home

:: books

:: gallery

:: data

:: blog

:: kids

:: shop

:: bio

:: help

:: contact

:: ChrisKridler.com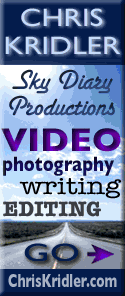 Words/images COPYRIGHT © 2018 by Chris Kridler. All rights reserved. Do not use Sky Diary photos on other Web sites. Personal use as computer wallpaper is permitted, but do not distribute photos. Write for information about purchasing video, photographs or articles. | Frequently asked questions

dispatches: June 2006
back | archive | current


21 JUNE 2006


Click to see big picture; dots are solid rocket motors



Space Coast: This picture isn't extraordinary except that when one clicks through to the big version, one can see tiny dots streaking away from the Delta 2 - the solid rocket motors falling, like a miniature constellation. Pretty cool. The rocket carried a defense demo satellite into orbit tonight from Cape Canaveral.

19 JUNE 2006


Deck view

Building railings: I've been a blog slacker but very industrious, helping my husband build our deck in the back of the house and screen in the patio beneath. There's a new door in our living room that lets in light and gives us access. It's a beautiful thing, a place outside the crazy, tense world out the front door. Yet I also realize as we pick out just the right balusters and spiral staircase, and I shop for pretty candles (and these wonderful, wacky, solar-powered tiki torches that flicker all night), I'm trying to shield myself from the ugliness and close-mindedness and violence that I've found so upsetting in the news lately. And, of course, pushing away darker thoughts as I see my mother's condition decline. All that prompted a poem. I'm tentatively calling it "Window Pain," but I'm on the fence as to whether that's tacky or clever. Anyway, here it is:

From here, the world is sliced
into fifteen lights,
rectangular pieces of window,
polygons of glass that stand
between me and the sun.
From here, the world is dissected
by the tic-tac-toe
of the glassy-eyed door,
and beyond,
by the rigid enticing legs of black chairs,
and beyond,
by the straight wooden rails
and the black curving balusters
that arch out and back like the bow
of a ship.
From here, the world is a crash through glass,
a trip over metal arms and backs,
a stomach-slam into wood
and a tumble to an unknown but probable end.
From here, I can't even see that,
but I know it awaits.
From here, I can't see much sky,
but the ground is a certainty,
something I don't have to see
to believe, a concept
more certain than god.



7 JUNE 2006
Nowhere safe: I was out with some reporters in Houston tonight, on the eve of astronaut interviews. We were longing for a blog-free zone. Maybe I'm violating it now, though I won't go into the details of what we talked about. But we did note that nowhere is safe or private when you're in a group (especially, god help you, a group of writers). Things you said or did that you thought were private jokes or goofiness are suddenly exposed to the world when journalists, instead of watching one another's backs, are watching their Web stats. By the way, I'm in an extended stay hotel that's fine, except the carpets in the hallways and the walls combine to produce this cacophonous red-and-yellow effect that makes me think the two creepy haunted girls from "The Shining" are going to come around the corner on their tricycles. Unsettling.