:: home

:: books

:: gallery

:: data

:: blog

:: kids

:: shop

:: bio

:: help

:: contact

:: ChrisKridler.com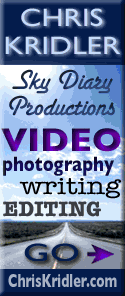 Words/images COPYRIGHT © 2018 by Chris Kridler. All rights reserved. Do not use Sky Diary photos on other Web sites. Personal use as computer wallpaper is permitted, but do not distribute photos. Write for information about purchasing video, photographs or articles. | Frequently asked questions

dispatches: March 2006
back | archive | current

28 MARCH 2006
Waterways: The beautiful, wild rivers of Florida are vanishing, but we got a good dose of one last weekend, paddling the Oklawaha.

Looking ahead on the Oklawaha, 25 March 2006


Of course, the other rivers are still there, only now, many are lined with houses and condos and docks and people and dogs, some of whom are hostile to an unobtrusive little kayak pulling up for a respite. The guy who ran the Canoe Outpost, where we camped Friday, said he doesn't even bother ferrying people up the Peace River anymore. Too many people are disappointed by the development - greed manifest, wilderness ruined forever. The Oklawaha River certainly wasn't a disappointment, but it sure was cold camping. We took Gracie, who was dogfully delighted by the piles of leaves and the great outdoors - almost manic at times - and then strangely whimpered whenever George and I were apart, especially when we were in our separate boats, no matter whom she was riding with. I think she was worried our pack could become separated or lost in this alien environment.
Anyway, Saturday morning, the mist drifted over the river and the cypress knees where we would later take out. After our van ride to to the dropoff point and a bald eagle sighting, we loaded our kayaks down with gear. I was flashing back to our Everglades trip a few years ago, which is another story. Gracie donned her "Outward Hound" life vest and started out in my kayak. First, we paddled upstream toward Silver Spring to get our obligatory look at a couple of the monkeys who escaped from some ancient "Tarzan" movie set. The water is so amazingly clear, more turquoise than silver, and simply beautiful. Then we headed downstream, broke for lunch, and kept going down the Oklawaha, with Gracie in George's boat. This is a wide, pretty river with a decent current. We saw alligators dozing in the cool weather, a fat water moccasin, a hummingbird sipping on some red flowers, a variety of other birds including flocks of ibis, and fish. A lot of the "camp sites" were hard to spot; I guess you make your own heaven. About 3 p.m., during a break at Gore's Landing, we talked about our options: camp again in the cold, with one of us stuck with the leaky mattress the way I'd been the night before, or really crank and get down to the takeout point. I like a challenge, despite already sore shoulders and arms. We cranked forth, making it, just barely, before it got dark. Talk about pain. But that sleep in a real bed was a wonderful thing. See more photos


20 MARCH 2006
Being green, or blue: I just underwent a little garden therapy - weeding, mulching, cutting back the dead stuff, planting new zinnia and coleus and hibiscus and other do-dads to brighten up the place.

Daffodil, March 2006


OK, weeding isn't so much therapy as torture, but at least it's done. This is Florida spring, which is practically summer. In the hardware store Sunday, an announcement came over the loudspeaker: "Customer needs assistance in the hurricane shutters." That's what's on our minds. It's quite a contrast with Pennsylvania, where I just was, where spring is so tenuous. The holly was green, its berries red, but the other plants are only now poking their little green noses through the gray and brown. The daffodils were close to bursting forth, but not quite there. They may be a comfort, but only a tiny one, as my parents look out their windows and hope for better things that are beyond my powers, beyond the stupid, daffy daffodils.

I'm looking forward to a chance to chase storms again this spring. NASA postponed its shuttle mission, which I was going to help cover for the newspaper; there are epic consequences for space, but the trickle-down effect is that at least part of May should be available for a little nomadic storm-hunting. Speaking of storms, there's a new T-shirt design in the storm shop: "partly cloudy." That sums up my mood pretty well.

6 MARCH 2006


Hanging out at the craft fair, 5 March 2006


Naked truth: I survived the Cocoa Village Craft Fair this weekend. They should make a T-shirt. I sold very few photos to some people with very good taste :) ... but my friends and the more artsy crafters agreed, the event looks more like a flea market than a craft show. I should've known better when they let the palm reader set up a booth. Here's a prophecy: It'll be a long time before I go through that again. I'm psyched, though; I have the Lake Eola show in Orlando coming up, along with the well-regarded Melbourne Art Festival. (See the calendar.) Truth is, I'm a bit overwhelmed right now. I'm trying to give my novel another polish before sending it to an agent who asked to see the whole thing, trying to get more photos ready, working a lot, hoping somehow I'll get to chase storms despite a huge potential work conflict in May, and then I learned today that my mother, who hasn't been well, is even worse. Of course, my parents are most on my mind. I'm heading out of town to visit them in a few days, but whatever I do is never enough to ease everyone's heartache. I need about five of me, or a "life grant" to free up my time, since the genius grant seems a little unlikely at this point.