:: home

:: books

:: gallery

:: data

:: blog

:: kids

:: shop

:: bio

:: help

:: contact

:: ChrisKridler.com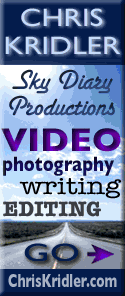 Words/images COPYRIGHT © 2018 by Chris Kridler. All rights reserved. Do not use Sky Diary photos on other Web sites. Personal use as computer wallpaper is permitted, but do not distribute photos. Write for information about purchasing video, photographs or articles. | Frequently asked questions

dispatches: February 2006
back | archive | current

21 FEBRUARY 2006


'Spring' in Florida, February 2006


One stick at a time: People who don't live in Florida think we don't have seasons. We do. Sometimes they're mixed up - cold, warm, cold, warm. But about this time of year, the plants really start to wake up. Some just lost all their leaves to winter; their buds are practically pushing the old foliage out. There's a fresh haze of growth - pokes of green on the palms, pink leaves on the bougainvillea, a gasp of flowers on the hibiscus, grateful for a recent watering. Soon, the color will be riotous. I'm a bit dormant myself right now. The little things are getting to me. Most recently, it was gum. I always thought I could trust Doublemint to be tasty, simple, and sugary. Some people look for sugar-free; I look for aspartame-free. Guess what. The company has added ASPARTAME to some of its SUGAR flavors as a flavor enhancer. The PR person who answered my query said the gum tagged "longer lasting" has the aspartame. (Some flavors, like Big Red, don't, yet - check the label.) It doesn't reassure me that there's a new study linking cancer with heavy aspartame use. (Read the great NYT story on the study, the conspiracy theorists, and the politics behind the drug's approval.) I say to Wrigley: Keep it simple. Sugar is sweet enough.



This is NOT my dog, but it's funny ... as seen in Cocoa, Florida, on 12 February 2006


12 FEBRUARY 2006
Showtime: My thanks to Lori Prell at the Black Dog Gallery for the nice reception for my photographs on Saturday. (See photos below.) It was fun to meet the people coming in. It seems as if they all have their own storm stories, about surviving a tornado or living in the Plains. The pictures help them remember. Thanks also to my friends who stopped by and my husband, who carried stuff, chopped onions and did other invaluable deeds. Earlier Saturday, of course, Steve Fossett made it to England by the skin of his teeth to break a long-distance flying record, a journey that started at Kennedy Space Center. Now the Olympics are under way in Torino, with more attempts at records, at achieving a moment of perfection rehearsed exhaustively, painfully, almost beyond the comprehension of the rest of us. Obsessions. Yeah, I've got my own.


| | | |
| --- | --- | --- |
| Lori and Jim meet and greet. | Gracie's fan club. | A look at some of the photos. |

10 FEBRUARY 2006
Dreamers: Steve Fossett is still in the air as I write, trying to get to England in VirginAtlantic's GlobalFlyer to break a record on Saturday.

Richard Branson and Steve Fossett pose with GlobalFlyer at KSC on Feb. 7. (See the big picture.)


I was on the Kennedy Space Center runway to see him lift off, which the fuel-laden plane barely did by the end of the pavement. A lot of people have asked me what would possess him to try another stunt, and I think there are a lot of reasons. The obvious one is he wants to make a mark on the world. Many of us want to do so, and maybe we succeed in small ways, but when it comes to the big stuff like this, it helps to have a lot of money and a lot of free time. I don't have either, but I am trying to have fun. Saturday from 1 p.m. to 5 p.m. is the reception at the Black Dog Gallery for my photographs, which are on display this month. Stop by. It's fantastic to see them on real walls and not inside a craft-show tent!

2 FEBRUARY 2006
Skimming the surface: I finally finished Mark Svenvold's "Big Weather: Chasing Tornadoes in the Heart of America," and then I decided to digest it for a few weeks before writing about it.

The joy of the chase


It's always weird to read about a people and culture you know - know well, because you are immersed in it. I thought Dr. Watson once said, after treating Sherlock Holmes to some mystery theater, that you shouldn't take an expert to an entertainment based on his area of expertise. (I've tried tracking down the quote for hours and have to grant that I may be hallucinating, but it's still a smart observation.) There's much about "Big Weather" to like, but for all its frequently dead-on detail, its cast of colorful characters and its immersion in the "extreme waiting" of the chase, it fails to capture what we storm chasers really feel when we see a supercell in all its glory. Svenvold is a poet, so I expected more personal insight, beyond linking the sprawling hobby with "torn porn," the disaster shows that have proliferated on TV. I don't chase storms out of a love of catastrophe, and I don't think I'm the only one. Though the community is diverse, different chasers share some motives, and I think (hope) they go beyond merely selling video or wanting to see stuff blow up real good, to quote SCTV. The desire is more profound. On the surface, many of Svenvold's observations are sharp, and he's ably captured the wit and personality of some of the chasers he meets. At least the men. Women are rare in the book; a few are young research-team members, portrayed as heavily made-up hoochies, along with the briefly mentioned Twister Sisters (v.2) and the aid they gave to victims of one hellish tornado (Hallam, Nebraska, in 2004, the account of which may be the best thing in the book). In "Big Weather," women mostly seem trivial. Chasing seems trivial. By the time the author is done his expedition, even he admits he's sick of it. He spins through the world of storm chasing like a movie camera with the sound turned off, throwing in extreme digressions that force the reader to do some extreme waiting, and dubs in his soundtrack of weather jargon and giddy energy later. Outsiders probably will learn a lot about what a chase is like by reading this book, and on that basis I can recommend it. But they won't get a look inside the souls of those of us who do it. They won't understand why. Maybe you have to love the storms to know.