:: home

:: books

:: gallery

:: data

:: blog

:: kids

:: shop

:: bio

:: help

:: contact

:: ChrisKridler.com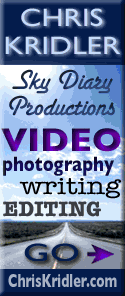 Words/images COPYRIGHT © 2018 by Chris Kridler. All rights reserved. Do not use Sky Diary photos on other Web sites. Personal use as computer wallpaper is permitted, but do not distribute photos. Write for information about purchasing video, photographs or articles. | Frequently asked questions

dispatches: October-December 2005
back | archive | current

6 DECEMBER 2005
Furry trouble: Sure, she looks innocent. Sweet, even. And then I look amid the

Grrrrrracie


dust bunnies under the bed and find a Provia film roll, its metal case distinctly chewed, the plastic knob gnawed off. What might have been a film tab is bitten down to a ragged nub, too. So I'm wondering ... is this a roll of film I actually shot, or is it an unshot roll that somehow fell into the clutches of my puppy, Gracie? I fear I'll have to pay to find out, if they can even get the film out - and if light leaks haven't ruined it. Ugh.

I just did my last arts/crafts show for the year, in Cocoa Village. The weather was beautiful, but hardly anyone bought anything - that was the consensus of the vendors who were chatting about the day. It's not about the money, but it's nice to break even. Still, I'm excited, because I'll be showing photos at the Black Dog Gallery in February. It features what I call fun art, including wonderful work by Lorene "Lori" Prell, who runs it.

There's still time to get some cool, stormy Christmas presents at the Storm Stuff Store, including hurricane ornaments. Prints are in the photo store.

21 NOVEMBER 2005


Pictures and reflections


Booth with a view: I just finished my second art festival. It's fun to see people react to the storm photos. "Dramatic" is a word I often hear. And lots of "Wizard of Oz" jokes. I'm always pleased when someone takes an interest in an image that I like but wasn't sure anyone else would. I sold a small photo of a grassy plant I call "Living Abstraction" - it's the sharp lines of the plant against the blurry lines and colors of that and other plants. Very cool, and not conventional. I tell ya, when you sit or stand for two days in one 10'x10' space looking out at the world, you start noticing every detail, like the reflections in the pictures and how all the lines come together. Hence the photo above.

Are you shopping? Don't forget hurricane ornaments and other stormy holiday gifts in the Storm Stuff Store. I sell some prints online, too, in the photo store. Now added: a launch picture from shuttle Columbia's last flight. I offer a lot more at the craft shows. The next is in Cocoa Village, in Cocoa, Florida, Dec. 3-4.

13 NOVEMBER 2005


A desert rose blooms. And it's nearly winter in Florida?


Depression: Tropical, that is. It's hard to believe, but now there's T.D. 27 in the Caribbean. I have a feeling this is going to be one of those seasons with a couple of December storms, just to make things interesting. Living in Florida, it's always hard to swallow the whole idea of winter holidays, even though the stores are already filled with tinsel and bright red sweaters (literally, we do a lot of sweating if we wear them this early) and hideous singing mechanical beasts and the like. The tropical systems only reinforce that feeling, that winter is something we see on TV, and the tropics (or sub-tropics) are where we live. Heck, I spent half the weekend working on a new flower bed planted with such hot-weather lovelies as hibiscus and plumeria. Despite all that, it's heavy holiday craft and art show season. This coming weekend, Nov. 19-20, I'll be showing and selling storm photographs at the ArtWorks Fine Art Festival in the old Eau Gallie section of Melbourne, Florida. Stop by and say hi. By the way - there are now hurricane ornaments in the Sky Diary Storm Store.

30 OCTOBER 2005
Tornadoland: Just a week ago, I was in the bizarre situation of leaving a perfectly good (bad) hurricane to go to a press seminar on "violent weather" in my favorite severe-weather capital, Norman, Oklahoma.

Signs, Oklahoma City airport, October 2005


Hurricane Wilma wasn't too bad at our house, though a tornado hit just down the road, and I spent an hour or so picking up sticks when I got home. The seminar was fantastic. I can't wait to see more of the technology coming down the pipe - flying probes, wireless and satellite data feeds from research vehicles, radar units on every cell-phone tower, the works ... time and money notwithstanding. Meanwhile, the reality sinks in when you see signs like these at the Oklahoma City airport, where the restrooms double as tornado shelters.

Calendar-wise, I'll be showing and selling storm photos at the ArtWorks Fine Art Festival in the old Eau Gallie section of Melbourne, Florida, on Nov. 19-20.

22 OCTOBER 2005
Whoa: Hurricane Wilma is starting to edge off the Yucatan and may be stronger than previously thought when it hits Florida. I'm still wondering if it will come over us -- and I'm supposed to be leaving town for a seminar. Hubby and puppy will have to hold down the fort. And now we have Tropical Storm Alpha! It's been truly an amazing year.

21 OCTOBER 2005


Hurricane Wilma, 21 October 2005


Eye-opening: Wilma has been fascinating and could get a little too interesting for Florida in a few days. It's the 21st named storm this season (tying the record), was the most powerful with the lowest pressure ever in the Atlantic basin, and has everyone around here jumpy as they wait to see where it will go. I have less anxiety than last year, but I also realize that the right combination of circumstances could bring stronger winds to the Space Coast than we got last year, given that the eyes of Frances and Jeanne made landfall south of us. Meanwhile, I'm supposed to fly to Oklahoma on Sunday to a press seminar on "violent weather." Ironic, isn't it? Get the latest Wilma tracks and forecasts in the tropical data links.


5 OCTOBER 2005


Oklahoma's whirling wind


Crafty: I'm getting ready to sell photos at craft shows, finally. It's something I've wanted to do for a long time. I'm also offering a few on the Web site, now - so you can get a preview of what I'll be offering. I'm selling mostly storm pictures, almost a decade's worth, and it was exciting to pull out the slides, scan them in and see what they looked like on glorious photo paper. I am working with a lab that uses a light process to print digital files, and the results are wonderful. I'm pleased with the flowers and rockets, too. Anyway, I'll be at the Cocoa Village craft fairs on Oct. 15-16 and Dec. 3-4. If you're in central Florida that weekend, stop on by!